Smoking to be banned on four Barcelona beaches in pilot test this summer
City council aims to raise awareness of health damage while curbing pollution of the sand and sea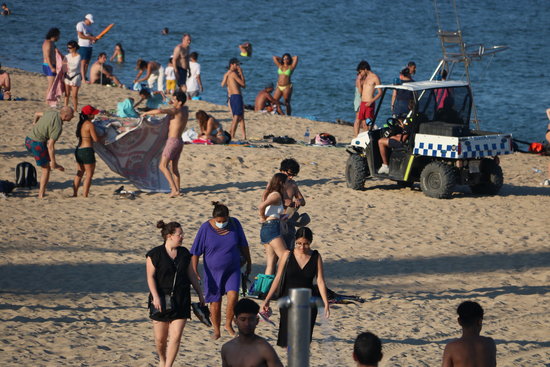 Barcelona city council will ban smoking on four of its beaches in a pilot test this summer.
Between the end of May and mid-September, people will be barred from smoking on the beaches of Sant Miquel, Somorrostro, Nova Icària and Nova Mar Bella, four of the ten beaches in the Catalan capital.
The aim of this project is twofold: minimizing the number of cigarette butts that are left in the sand that eventually ends up in the sea, thus protecting the environment, as well as acting as a measure to protect the health of bathers on the beach.
The initiative led by the city council also aims to raise awareness about the impact of smoking.
The local councillor in charge of climate matters, Eloi Badia, explained that cigarette butts are some of the most damaging elements to beaches in terms of pollution, as they contain up to 4,000 chemicals, around 400 of which are toxic. In addition, they take between 10-12 years to disintegrate.
"The measure will allow us to somewhat curb environmental pollution and allow us to take a step forward in the protection of beaches," he said, citing Galicia's smoke-free beaches as an example.
Authorities also explained that the ban's aim is not focussed on punishing those who smoke on the beach - the ban won't directly result in fines - but more about raising awareness.
Instances of non-compliance could be transferred to the Guardia Urbana local police who will be able to instruct people that smoking is banned in the area. However, if the beachgoer then still does not comply, the local police would then be able to hand out a fine, but the reason would be disrespecting authorities rather than breaking the smoking ban.