Sanit-Gobain staff committee call indefinite strike against glass division closure
Workers protest will see the N-340 highway cut as they hope to avoid over 120 job losses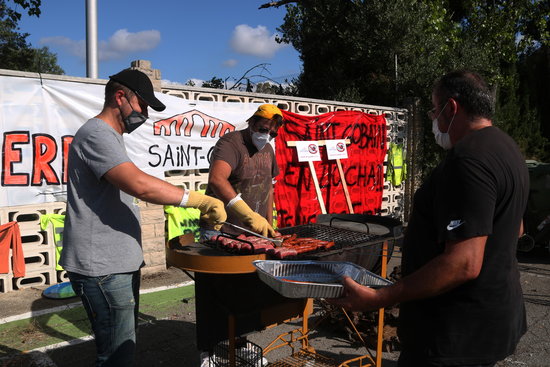 The employees' committee of the Saint-Gobain factory in the town of Arboç (Baix Penedès) is calling for a second indefinite strike that will begin on Sunday morning.
Speaking to the Catalan News Agency, the head of the group, José Alberto Garcia, called for the maximum involvement of the staff to prevent the closure of the glass working division.
"We hope that as many people as possible will join," he said. Workers gathered on Saturday morning for a breakfast protest and are scheduled to demonstrate again on Sunday, cutting the N-340 highway, from 6 pm.
Nearly fifty people came together in the early hours of Saturday morning at the gates of the Saint-Gobain factory to take part. This is a new protest against the decision, announced in late August, to end activity in the glass division.
Thus, employees are "warming up" ahead of the indefinite strike that begins at 6 am on Sunday and will be extended at least during the planned 30 days of the bargaining period. "We are ready for the fight," the chairman of the staff council said.
"This is a situation that we have not experienced before and that requires the maximum support from all, because we are talking about a closure [of a division], not a disagreement or any other problem, but a closure that can lead to job losses in the very near future affecting thousands including family members," he said.
The cease of activity of the glass division would mean the dismissal of 122 people, according to the unions. At the same time, the workers' groups indicate that the closure would also call into question the continuity of the Sekurit division, where 260 people work. In addition, job losses would also indirectly affect other workers and companies.
The chairman of the works council also denounced that the management of the multinational company. "They are playing with warnings, with nightmares, and treachery," he said. Despite this, he was optimistic about the negotiations and thanked the support of political groups, such as the Socialists and CUP.
The works council will meet remotely on Monday with the minister of labor, Chakir el Homrani and representatives from the ministry of industry to seek solutions.