Sànchez to take Spanish judge to human rights court
Parliament speaker to "defend the rights" of jailed MP as candidate for president "until the end"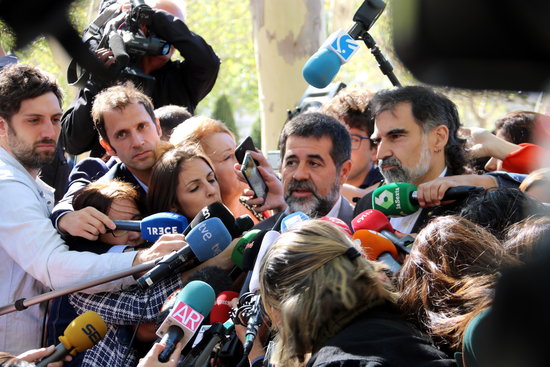 The defense of the jailed pro-independence leader Jordi Sànchez will take Spain's Supreme Court to the European Court of Human Rights on Monday next week for denying him the permission to attend parliament in order to be sworn in as Catalan president.
According to parliament sources, the chamber's president, Roger Torrent, will "defend the rights" of the incarcerated MP. For the time being, Torrent is keeping the investiture debate set for next Monday at 10am. He recently announced that he would defend the rights of all MPs and the sovereignty of the chamber "until the end."
The Spanish Supreme Court rejected on Friday afternoon a request by Jordi Sànchez, a jailed pro-independence activist and MP for Junts per Catalunya candidacy, for temporary permission to leave prison and be sworn in as Catalan president. The judge argues "risk of repeated offence" for his decision.
The parliament was expected to meet on Monday next week for Sànchez's investiture debate. After the court decision put the appointment on hold on Friday, all eyes are now on pro-independence parties and the speaker, who have to decide their next move.
Will Torrent go ahead with the parliamentary debate allowing an investiture at a distance despite Madrid's opposition, or will he postpone the session like he did on January 30? There might be a third option, which would include keeping the session called but changing the candidate. The answer to these questions is set to be answered shortly.