Debate to swear in Puigdemont postponed
Parliament President says Catalan leader remains the "only candidate" for the presidency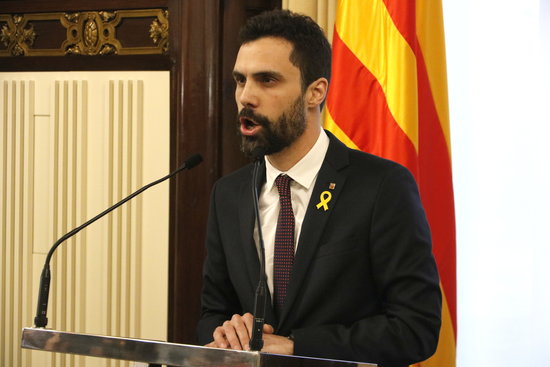 The debate in Parliament to swear in Catalan leader Carles Puigdemont as president of the government has been "postponed". The chamber president, Roger Torrent, announced the decision on Tuesday morning, hours before the session was due to start at 3pm. Torrent said the debate "is not cancelled" but will be held only when there are "guarantees" that it will be "effective".
The Spanish Constitutional Court ruled on Saturday that Puigdemont, who has the support of a majority of MPs, cannot be elected from Brussels and must ask a judge permission to attend the parliamentary session. Puigdemont has been living in Belgium for three months, and although he is a free man in the EU, he would be immediately arrested if he sets foot in Spain, where a judge wants him for alleged crimes of rebellion and sedition.
"The Spanish Vice President and the Constitutional Court will not decide who will be the Catalan President. That is up to the democratically elected MPs," said Torrent in a statement on Tuesday morning. He explained that the Parliament's legal services are working to appeal against the precautionary measures that the Constitutional Court applied to Puigdemont's election.
"I will not put forward any other candidate to the presidency of the Catalan government than Puigdemont," Torrent said. According to him, the Catalan leader has "the right" and "all the legitimacy" to become president. "I have a personal commitment to protect his parliamentary immunity," he added.
The Catalan Parliament president insisted that the candidate for president in the investiture debate will be the MP with majority support in Parliament. Torrent also stressed that under no circumstances will the candidate be chosen by a "court" or by "a minister in an office" in Madrid. "The people of Catalonia deserve respect," he pointed out.