Reopening of social life in Catalonia gets underway
Indoor and outdoor areas of bars can open, as well as sports venues, cinemas, theaters and concert halls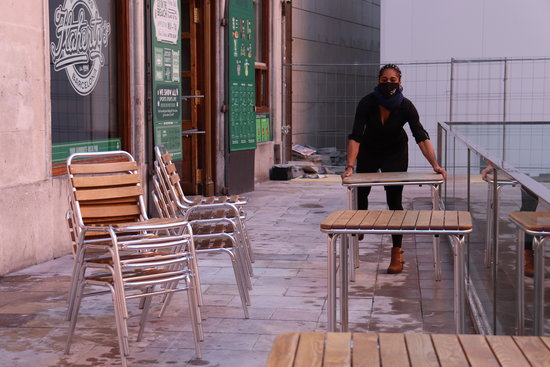 39 days after a forced closure, bars and restaurants were able to reopen in Catalonia on Monday morning – for over a month, they were only able to deliver food and offer takeaway services.
A two-month social life reopening scheme got underway on November 23, after several weeks of progressive improvement of the health situation and the main Covid-19 figures.
Bars, gyms and cultural venues operate again
Interiors of bars and restaurants still have to operate at only 30% of their regular total capacity. They cannot open before 6am and must close no later than 9.30 each night, as the 10 pm curfew is still in place.
Meanwhile, such establishments can open their outdoor seating with no limits – but tables have to be two meters apart and only up to four people will be able to sit at each table.
Gyms and sports centers were also able to open on Monday: 50% of the regular capacity can be accommodated in outdoor ones while only 30% can take part in activities indoors.
Theaters, cinemas and concert halls are now also allowed to operate again after 24 days of closure.
Shops are able to open at 30% of their capacity, like in the past few weeks, but now establishments of over 800m2 are able to use their entire space, not only 800m2.
Curfew, border closure, weekend lockdown still in force
Yet, the reopening that began on Monday morning is only the first of four phases that will see other measures progressively lifted over two months.
For instance, the maximum of six people in social gatherings will still be in place, probably until December 21, when it might be expanded to ten.
The 10pm to 6am curfew will also be in operation throughout the whole scheme – that is, if each phase lasts two weeks, at least until January 17, 2021.
Likewise, the partial weekend lockdown is also still on. From Friday at 6 am to Monday at 6 am, people are not allowed to leave the town or city they reside in. In two weeks, residents will be able to go to other towns in the same county, and in four, this measure is expected to be fully lifted.