Rebuilding a business in a new country after fleeing war
Fashion designer Kensia Karpenko lost her home and studio after the invasion of Ukraine, but not her talent or passion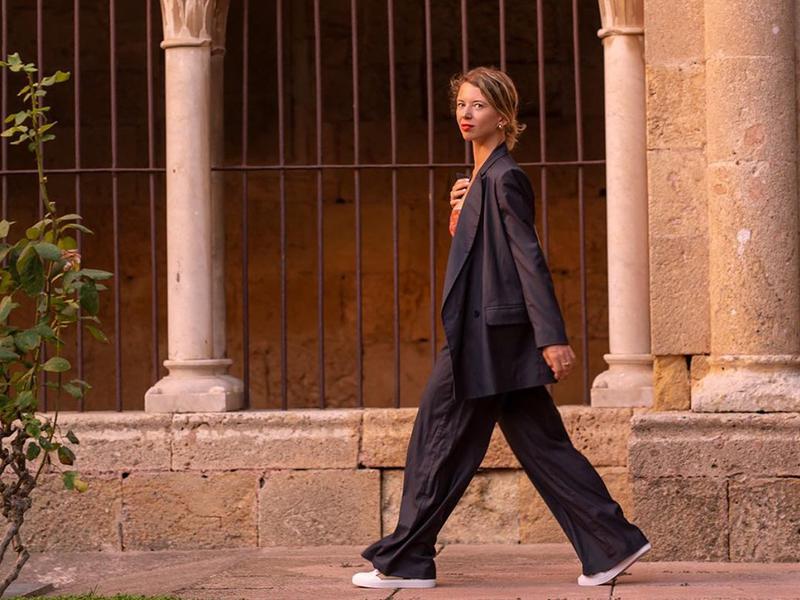 Kenia Karpenko was one of the first refugees in Catalonia following Russia's invasion of her home country, Ukraine. In fact, she did not even arrive to Catalonia as a refugee, but rather, as a tourist.
After a difficult year in work, she and her family came to Tarragona for a holiday, arriving on February 23, 2022, on the last plane out of Kyiv destined for Barcelona.
"The very next day, we woke up and we heard that the war had begun, so we never went back," she tells Catalan News. "When you are experiencing this kind of tragedy, you are very focused and try to cope with the stress by [doing things.] How to file for refugee status, what should we do, where would we place our kid?"
Karpenko tells of "chaos" in the first days after the war, with tension high and procedures yet to be defined: "No one knew anything because no one was ready for that, and it seems like we were the first Ukrainians fleeing the war, and no one here knew what the procedure was. We had no documents, no NIE, to rent an apartment you have to get your NIE."
Two months before the war broke out, Karpenko opened a new boutique in downtown Kyiv for her fashion label, Love by Ksenia Karpenko. Yet, she has not been able to return to the store in over a year now, throwing her business operations up in the air. "I didn't know it was still going to be operated and how, because everything was complete chaos. My team was scattered around Ukraine and other European countries, it was all a mess."
Love's technical designer was based in her home village away from the capital city, an area where Russian troops managed to gain control of, and Karpenko lost connection with her for a number of weeks. "It was scary. I really was thinking that we could never see her again, and as it's a small team, we are very close, we are colleagues and friends," she explains.
They eventually learned that their colleague survived, spending two weeks in a basement of a building. "She definitely has to go through psychological support because it was really harsh," Karpenko says.
Separated from her home country, her colleagues, and her studio, Ksenia Karpenko was was determined to rebuild her life and her business in a new country and with a new focus. "I have my two hands, my two legs, now I have to learn how to speak Spanish. I lost everything over there, but my passion for fashion is still with me."
She reached out to everyone she could on LinkedIn and began to make connections in the fashion world in Catalonia, hoping to collaborate and launch new projects. But this came with its own unique set of difficulties "because the Ukrainian market, the Spanish market, and the European market are all completely different markets, and it feels like you have to start all over again."
However, step-be-step she made progress, and when Russian troops withdrew from the Kyiv region she was able to renew production and she began importing materials from Ukraine, and is now operating her business successfully once again, only now from her base in Catalonia.
"It was messy but people here helped us hugely, and I will forever to my last breath be grateful for Catalan people for how everything was sorted out and how everyone was helping," she says.
However, above her professional life, her family life is her number top priority. "For me as a mother, the kid and bringing him up in a very calm peaceful society and seeing him happy is my top priority of course." Karpenko's young child is enrolled in school and has already picked up the Catalan and Spanish languages. "Kids are so fresh and open minded," she comments.
She says that Catalans are a very "empathetic people" and expresses a lot of gratitude to the society that has made her and her family feel welcomed in distressing circumstances, and she is relieved to see her child growing up happily and safely. "With work, you can always catch up, but with kids you cannot catch up, if the time is lost, it is lost."