Rain in Catalonia will be more frequent, violent and unpredictable in future
More deaths and damage caused by heavy precipitation than any other natural phenomenon due to climate change in past decade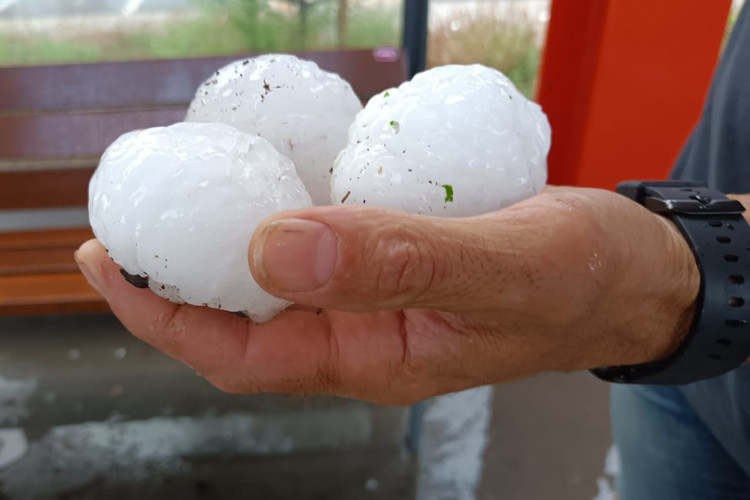 Episodes of rain in Catalonia are expected to become more intense in the coming years due to the effects of climate change.
The local weather service (Meteocat) and civil protection authorities believe that there will be more frequent and more extreme rainstorms in the future, which they predict will be more difficult.
Rainfall may be especially heavy in very specific places while in others nearby its intensity may be much lower at the same time – indeed, on August 30, for instance, up to 10 cm-hailstones (4 inches) in northern Catalonia resulted in the death of a toddler in La Bisbal d'Empordà, some 30 km east of Girona.
A third of all towns at risk of flooding
Meteocat and civil protection authorities said in a joint press conference on Thursday that more deaths and damage have been caused by heavy precipitation due to climate change than any other natural phenomenon in the past ten years, highlighting that a third of Catalan municipalities are at high or very high risk of flooding, including 15% of all urban areas.
Around 4% of Catalonia's territory is at risk of flooding if the main rivers burst their banks. This means that some 630,000 people, or 8% of the population, live in areas that can be flooded, while 150,000 or 2% live in high flood risk areas located mainly in the Barcelona, Girona and Lleida metropolitan areas, as well as near Tortosa and the Ebre and Tordera river deltas.
Rain has caused an estimated €1.3bn in damage from 1987 to 2011. From 2004 to 2033, authorities estimate it will have caused some €2.5bn in damage, or €85m per year.
Climate change is seen as the main factor behind these trends. Because of this, Meteocat will update its four weather radars and lightning identification system in the coming three years in order to detect upcoming extreme weather episodes - and warn residents - sooner. Its current radars, which date back to the 1990s, are able to give accurate predictions two hours in advance.
Safety recommendations
During the press conference, the public was advised to be aware of the safety recommendations before and during storms, which are even more common in the fall.
These include making sure water drainage systems are not clogged, not getting close to riverbeds and streams, getting out of cars immediately if it begins to flood, leaving cars parked in garages, staying home if the streets are flooded and switching off the electricity, as well as avoiding trees if it begins to hail.