Public sector protests go down after agreement
Medical staff strike partly called off as Catalan president says rallies are "fair, necessary and appropriate"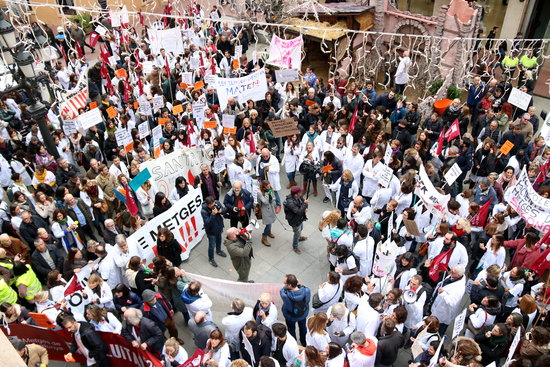 The public sector protests went down on Friday after one of the top medical staff trade unions reached an agreement with Catalonia's health department.
Both sides agreed on Thursday evening that 250 primary healthcare doctors need to be hired.
Minimum times for the visits are also established, as well as other measures. For instance the government department pledged to invest extra 100 million euro on primary healthcare.
As a result, the week-long protest in public centers was called off after four days, while the one in public-private ones continues through Friday.
Some protests by this group were held on Friday morning, but the intensity of the rallies went down compared to Thursday.
University students and teachers, as well as other civil servants, were no longer on strike on Friday.
Political criticism against Catalan president
The Catalan government was not only facing pressure from the protesters, but also from some opposition parties, which criticized that the president has remained "silent" during the protests.
"We ask that president Torra appear in Parliament to tell us what he intends to do regarding the deterioration of public services and the working conditions of public sector workers," said on Thursday Socialist senior MP Eva Granados.
'Fiscal deficit'
On Thursday evening the head of government said that the rallies are "fair, logical, necessary, appropriate and legitimate."
He committed to make "the maximum possible effort" to fund the public services, but complained about Spain's financing system.
According to him, the Catalan administration loses every year 15 billion euro in the so-called 'fiscal deficit,' that is, money from Catalan taxpayers which goes to Spain but are not returned either via transfer or via investments.