Pro-independence head under investigation for comments about recent unrest
Prosecutor to look into accusations by unionist group that ANC president Elisenda Paluzie incited hatred and defended violence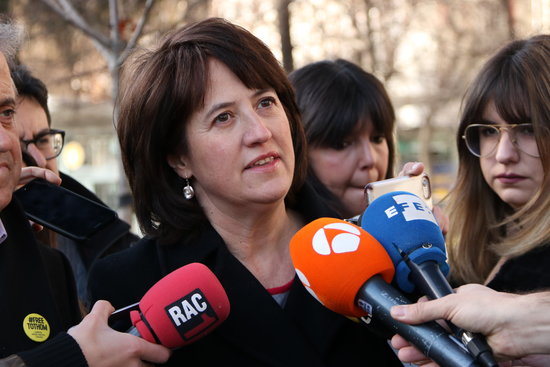 Barcelona's public prosecutor has begun proceedings to open an investigation into the head of one of Catalonia's main pro-independence civil groups, following statements she made about the disturbances that followed the jailing of Catalan leaders in October.
Elisenda Paluzie, who is the president of the Assemblea Nacional Catalana (ANC) said the unrest that took place around Catalonia in response to the sentencing makes "the conflict visible" and ensures the issue is "continuously" covered by the international media.
The prosecutor now wants to investigate Paluzie to determine whether she committed the offenses of inciting hatred and defending violence, after a complaint from Societat Civil Catalana (SCC), an umbrella organization for groups against independence.
The ANC head made the comments in a TV interview on October 28, in which she suggested the disturbances could have positive as well as negative effects, and in which she blamed the state authorities as ultimately being responsible for the violence.
Two parody shows under investigation
The public prosecutor will also be investigating two parody TV shows, both aired on public Catalan broadcaster TV3, for alleged hate crimes and slander against the police.
The Spanish Central Independent and Public Employees' Trade Union (CSIF) filed complaints against Polònia and Està passant for their portrayal of police officers during the riots that took place throughout Catalonia.
Polònia aired a comedic video clip depicting four police officers as members of Barcelona band Manel singing a play on their song 'Boy Band' titled 'Poli Band' (or 'cop band' in English). According to CSIF, they characterize the police as "a group of illiterate, aggressive and violent moral harassers that harms citizens indiscriminately."
Està passant, which other unions had already filed complaints about, aired an episode with dogs – which in Catalan rhyme with the word for Catalan police, 'gossos' and 'mossos' respectively – wearing police helmets and armed with riot guns, surrounded by baton rounds.