Private journeys back at pre-pandemic levels but public transport still down 21%
Mobility experts say fear of infection, removal of tolls, remote working and drop in tourism help explain gap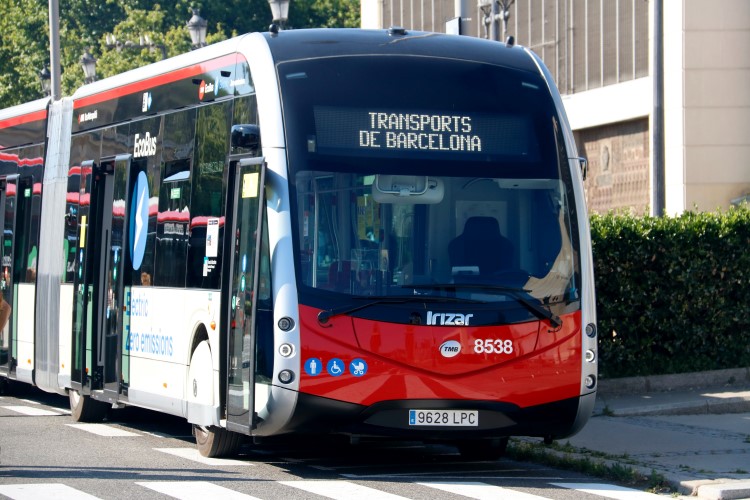 Private journeys have almost returned to pre-pandemic levels, but public transport is still lagging significantly below 2019 figures.
According to data from the Catalan Traffic Service and the Metropolitan Transport Authority (ATM), the number of vehicles entering and departing the metropolitan area was only 2.2% lower in the last quarter of 2021 than in 2019. In February this year, journeys were down 4.6%.
Public transport, however, is not showing the same level of recovery. There were 21.9% fewer journeys in the last quarter of 2021 than in 2019 and 21.8% less in February 2022.
Fear of infection, the removal of tolls on many highways, remote working and less tourism are among the reasons that could explain the figures, various mobility experts and administrations told Catalan News. The ATM does not envisage a "full recovery" until 2023.
A total of 77,378,105 vehicles were registered entering or exiting the main highways in the Barcelona metropolitan area from October to December 2019, compared to 60,421,948 in the same period in 2020 (-21.9 %) and 75,614,401 in the fourth quarter of 2021 (-2.2%).
On the other hand, public transport journeys (including metro, city and intercity buses, FGC rail, tram and certain Renfe rail tickets) numbered 263,501,710 between October and December 2019, compared to 146,873,388 a year later (-44.2%) and 205,765,933 in the last quarter of 2021 (-21.9%).
The ATM mobility director Lluís Alegre told Catalan News that this year they predict between 925 and 950 million passengers on public transport this year, up from 564 million in 2020 and 714 million in 2021, but below the record set in 2019 of 1.056 billion journeys.
Alegre believes that public transport journeys in 2023 will surpass the 2019 record, while trips in private vehicle will "stagnate" current levels.
Fear of infection
He cites a lack of tourists as one of the reasons to explain why public transport has been slower to recover, with visitors previously "accounting for 10% of all journeys," compared to "between 1% and 2%" now.
Mobility expert Núria Pérez from the Barcelona Institute of Regional and Metropolitan Studies agrees, and also says people's "fear of infection" has made them more reluctant to return to public transport.
Speaking to Catalan News, she was critical of the role of the media in this regard, saying that using images of public transport when talking about Covid data, especially at the beginning of the pandemic was "very negative."
Remote work
Benjamín Cubillo, deputy director of public transport and mobility in Catalonia, says that remote work and subsequent flexibility in working hours have also slowed the return to public transport.
For many people, he told Catalan News, "this freedom or flexibility seems to be better served by the private vehicle," especially if they work in industrial estates or areas with less frequent public transport, and if they have to make trips like taking their children to school before work.
Pérez adds that adds that they have found that people who work remotely were more likely to be users of public transport than private vehicles before the pandemic.
Cubillo also points out that "the removal of tolls must be taken into account," as some people who did not use their car because of the cost of tolls have now changed their mode of transport.