Pope Francis, on Catalan crisis: Spain needs to 'come to terms' with its history
Pontiff calls for dialogue, says ideologies should be avoided but there is no need to "give up" positions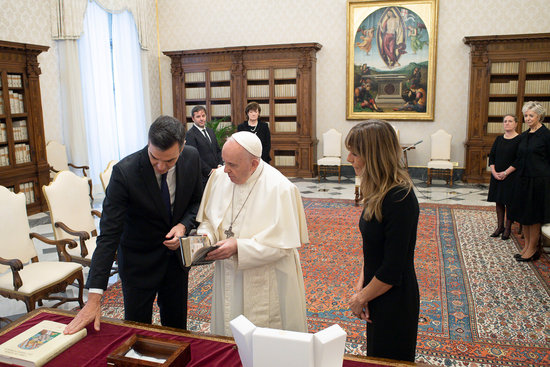 Pope Francis has made reference to the independence issue in Catalonia, saying that Spain needs to "come to terms with its history" and to enter a process of reconciliation and dialogue.
In an interview with Spanish radio station COPE broadcast on Wednesday, the head of the Catholic Church spoke of "countries in Europe that today are in an independence process, such as Kosovo," which he said were "historical events characterized by particularities."
"In the case of Spain, it is Spaniards who have to make a judgement," Francis said, "but for me the key for any country with these problems is to ask itself if it has come to terms with its own history."
In an apparent reference to the legacy of the Spanish Civil War and Franco dictatorship, Francis continued: "I don't know if Spain is completely reconciled with its own history, especially the history of the past century, and if it is not, I think it must move towards reconciliation with its own history, which does not mean giving up positions, but entering into a process of dialogue and reconciliation," he said.
"Above all," he added, it means "moving away from ideologies, which hold back any reconciliation process."
The head of the Vatican warned that without the basic reconciliation of people, a state cannot achieve true national unity. He also stressed that governments must work to advance history in a country as "brothers and not as enemies."
Listen below to learn more about the changing religious makeup of Catalonia, in an episode of Filling the Sink recorded to mark Easter 2021.