Police dismantle Catalonia's 'largest ever drug flat network'
New details emerge as Mossos d'Esquadra explain how two-year operation led to 58 arrests, including four gang leaders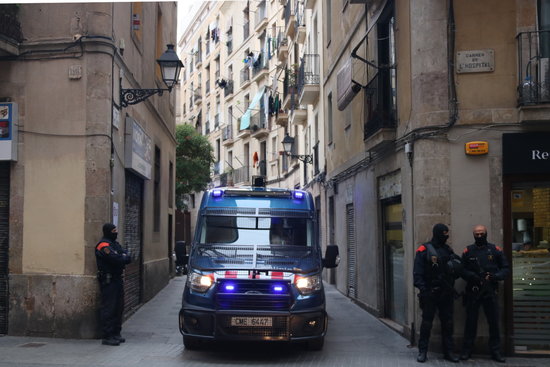 The largest 'drug flat' network ever seen in Catalonia is no more, according to the Catalan police, the Mossos d'Esquadra. On Monday, the Mossos gave more details of the operation against a Dominican gang selling drugs from empty apartments in the city's Raval district.
As Catalan News reported, police carried out a major operation against the gang on October 29, which ended in 58 arrests, 85% of whom were people with a record of drug dealing or violent robbery. Among them were the four gang leaders, aged between 20 and 45.
The head of the Mossos Criminal Investigation Division, inspector Antoni Rodríguez, said on Monday that the operation is the result of two years work, involving 46 investigations, which began in 2016 after six deaths from clashes between Latin American gangs.
Largest drug flat network ever in Catalonia
According to Rodríguez, the operation has led to the successful dismantling of the largest drug flat network that Catalonia has ever experienced. During the operation at the end of October, some 40 flats in the Raval area being used to sell drugs were raided by police.
The drug flat phenomenon had two aspects to it. On the one hand the gang used empty flats to sell drugs to be consumed elsewhere, while in other flats occupied by the gang customers would buy and then consume the drugs on the premises.
Rodríguez explained that some of those arrested had come to Barcelona from Madrid, and the inspector said that the police would be on their guard to ensure that Catalonia does not become a magnet for drug dealers expelled from other areas of Spain.
Gang had a pyramid structure
The investigation shows that the gang worked with a pyramid structure, with the dealers on the bottom rung, who would use electric scooters to quickly fetch the small quantities of narcotics that would then be consumed in the flats occupied by the gang.
On the next rung were the gang members in charge of the flats, who handled the money and made sure there were always drugs available. At the top were the gang bosses, who collected the money, maintained the peace, and who scouted out new flats to occupy.
Of the 58 people arrested, 39 went before the court, with the judge ordering 18 -the most senior gang members- to be held in custody, while the others were released on conditional bail. In the operation, the police recovered 15 flats that have been returned to their owners.