Police clash with antifascist demonstrators in Girona
Several injured after rally aiming to protest against event to mark Spanish constitution 40th anniversary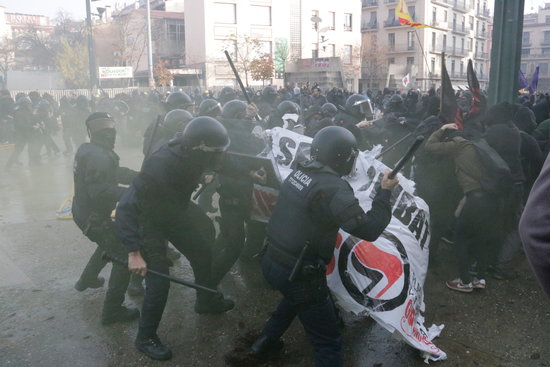 The Catalan police clashed with a group of antifascist demonstrators in Girona, northern Catalonia, on Thursday, coinciding with the 40th anniversary of the Spanish Constitution.
The rally was aiming to protest against an event to mark the constitution's jubilee in the city, supported by parties including the far right Vox and the People's Party.
Several injured and one arrested
The clash between the police and the demonstrators ended up in one person arrested and four officers injured, one of whom in serious condition.
According to the organization Metges per la República (Doctors for the Republic), some 15 protesters were also injured due to the police's charges.
The officers started beating the group of antifascists when they knocked down some fences prepared for the unionist event, which was due to start some two hours later.
They also charged against the protesters a second time just before the event was set to start.
Far-left party wants home affairs minister to step down
The far-left pro-independence CUP party has demanded for the Catalan home affairs minister to step down, while the main unionist political force in the country, Ciutadans, condemned the attitude of the antifascist protesters.
"In Girona the cells which tried to avoid that other people demonstrate have provoked serious incidents," said senior MP Carlos Carrizosa.
Meanwhile, the Catalan vice president, Pere Aragonès, called for the public to respond to the rise of the far right "by peaceful, civic and democratic means."
MP injured
Later on the day another clash between the police and antifascists, this time in Terrassa, in Barcelona metro area, resulted in two arrests and at least seven people injured, including far-left CUP MP Maria Sirvent.