Police begins shutting down New Year's illegal rave only after two nights amid bewilderment
Police ruled out stopping it at first despite Covid-19 to avoid clashes with the 200 to 300 partygoers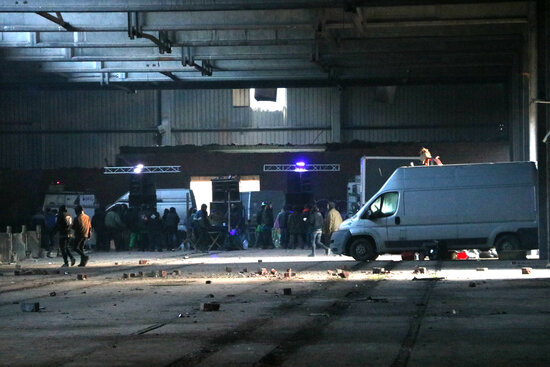 The maximum number of people allowed to gather to celebrate New Year's Eve in Catalonia was 10 people due to Covid-19, but between 200 and 300 people joined an illegal rave party in Llinars del Vallès (40km north-east of Barcelona) to bid farewell to 2020.
Not only did they break the rules, but two nights later, the party was still on on Saturday morning – and partygoers wanted to stay until Monday.
This prompted complaints of some neighbors in Llinars del Vallès due to the loud music, and one of the main associations of nightlife businesses, FECASARM, urged shutting it down, given that all nightclubs complying with health regulations have been shut since March, "while a completely illegal activity and without any safety measure continues without anyone taking action."
Eviction begins 36 hours into 2021
To their bewilderment, and also the surprise of part of the public expressed on social media and even of the Catalan health ministry – that is to say, another department of the same government –, the interior ministry and the Mossos d'Esquadra police only began stopping the party on January 2 at midday, 36 hours into 2021.
Around 20 police vans took part in the operation, as well as other Mossos and local police vehicles and health emergency workers. A barricade made out of stones was also removed with excavators.
Fines of up to €600,000
The law enforcement officers identified 215 people, who will be fined €3,000 each for skipping the health regulations, while the two organizers were arrested and a judge will decide whether they are released in the next few hours. They could face fines of up to €600,000 each. Five more people are being investigated for disobedience. The Mossos director-general, Pere Ferrer, clarified that everyone will receive the fine, including those living abroad.
Authorities decided to not perform Covid-19 tests on participants, but those who had to drive out of the place were tested for alcohol and drugs.
The operation lasted several hours because participants were individually identified and the vehicles checked. In parallel, a helicopter was used to make sure no one fled the site without being identified.
Designing a police operation "with care" before eviction
At first, they ruled out entering the abandoned warehouse known as 'Bòbila' to avoid clashes with the attendees – the French police were attacked while trying to stop a rave attended by 2,500 in Brittany on Friday –.
On Friday, some officers entered the warehouse but the attendees did not respond to their requests.
Indeed, Ferrer said on Saturday afternoon that "a hasty operation in the early hours of January 1 would not have had guarantees for anyone: neither the participants nor the officers."
This followed comments by another Mossos senior official, David Boneta, who said in the morning that given the large number of people taking part in the event, a police operation has to be designed "with guarantees and care."
The interior ministry has asked the health authorities how to proceed to evict them in order to keep record of possible Covid-19 positives – but the health ministry replied that they had never been requested a protocol before stopping an illegal party and urged their government partners to "not use the health department as an excuse to not evict them."
French, Belgian, Dutch, Italian but also Catalan partygoers
Some of the rave attendees are foreigners, with a number of French, Belgian, Dutch and Italian young people, but the Catalan News Agency (ACN) has also observed the presence of Catalan people.
A couple of French young people in the warehouse said to ACN that they needed to "disinhibit" and showed no concern when asked about the possibility of being removed.
They added that the DJs in the rave are "very good" and pointed out that they are French.
Some 150 vehicles were parked around the industrial site on Saturday morning, with some of the participants in the rave sleeping in them.