Photo-burning and human chain among protests for arrival of Spanish king
Monarch and president of Spain will attend economics award ceremony in Estació de Fraça on Friday morning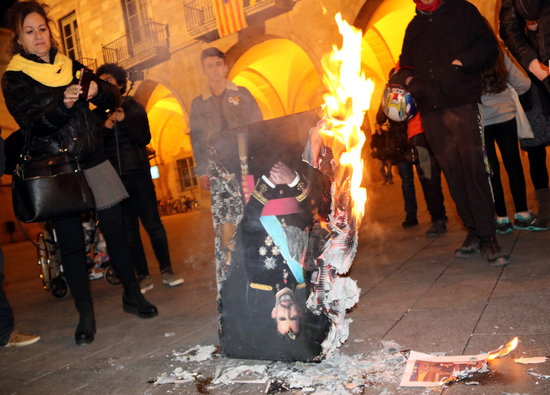 Protests have been called across Barcelona and Catalonia since the Spanish king Felip VI announced a journey to Barcelona earlier in the week, attending Barcelona New Economy Week, an economics awards ceremony, alongside the Socialist president Pedro Sánchez.
Burning photographs of the monarch
Determined to show the king that he is "not welcome", the pro-independence civic group Catalan National Assembly (ANC) have organised a photograph-burning protest against the king's visit on Thursday evening, at Plaça Sant Jaume at 8 pm.
Photos of the royal will be burned in front of town halls and other places across Catalonia in an act that ANC promises will be the "prelude" to Friday's protest.
"The Spanish state is sending its top representatives to visit Catalonia in the midst of a new spiral of repression, violation of fundamental rights, injustice and undemocratic use of the courts," the group says.
Protests involving the burning of images of the royal family have taken place in Catalonia various times in the past.
Human chain
On Friday, various sovereign and pro-independence entities and political parties, as well as unions and civic organisations, have called for a human chain to be set up from the Estació de França train station to the Christopher Columbus monument at the bottom of La Rambla.
The act will begin at 10 am from various strategic points along the planned line of the human chain. Organisers want to "make it clear" to Felipe VI that "Catalonia has no king" and that he is "not welcome" in Barcelona.
The economics awards event that the king is attending with the Spanish president is taking place in that very train station, and as such, normal service on the trains will be interrupted between the hours of 9.25 and 11.45 am. The act itself is due to take place at 10.30 am.
CDR group call protest
Protest group CDR have also called for a protest outside Estació de França at 10 am.
"This Friday, the leader of the Regime of 1978, Felip de Borbó, arrives in Barcelona with Pedro Sánchez. CDR will be on the street to remind him that he is not welcome," they warn.
The group have also announced that they will be protesting "to fight against the political heir of Franco," the fascist dictator that ruled Spain for around 40 years during the 20th century.