Pep Guardiola urges Swedish PM to certify Catalan language in EU
Manchester City coach praises millennia language spoken by 10 million people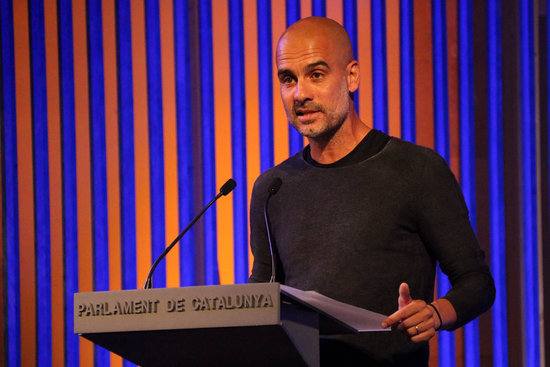 Manchester City coach Pep Guardiola has urged the Swedish Prime Minister, Ulf Kristersson, to "say yes" for Catalan to become the 25th official language of the European Union in a video released by Plataforma per la Llengua during the weekend.
The entity promoting the use of the Catalan language has been asking European leaders to "say yes" to Catalan, Galician, and Basque to join the already 24 official European languages after the Spanish government requested to make the three regional languages in Spain official in the Union.
The process will start on Tuesday during a meeting of the European foreign affairs ministers, in which Spain even proposed to pay for the costs of the translation services.
"The Spanish government has requested the European Union to accept Catalan as an official language of the European Union," Pep Guardiola said. "For this to become a reality, all European countries must say yes," he added.
"Ours is a millennia language spoken by 10 million people, and it is part of the European cultural heritage that we all take pride in," Guardiola said referring to "Catalan, my language."
Swedish is spoken by around 10.85 million people worldwide.
In recent days, Sweden has shown some "doubts" regarding the need to make Catalan, Basque, and Galician official languages in the European Union. Meanwhile, other countries asked for more information on the costs and the expenses.
Spain's request to make Catalan, Basque, and Galician official languages is part of a last-minute agreement by pro-independence parties to back a Socialist congressional speaker after the Spanish election.