Parliament awards migrant rescuing champions Rackete and Camps
"They are two fighters for human rights," says chamber head after announcing consensus to grant them Gold Medal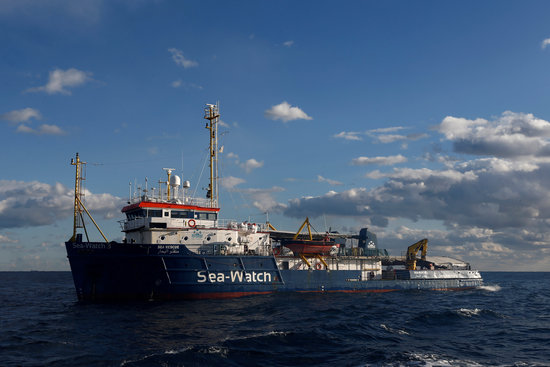 The Catalan parliament has awarded two migrant rescuing champions, Carola Rackete and Òscar Camps, the chamber's highest award, the Gold Medal.
The parliament's bureau took the decision unanimously, and its speaker, Roger Torrent, described the sea captains as "two fighters for human rights."
"They risk their own freedom and even their own lives to save the lives of others in the face of inaction from countries," he added.
The parliamentary agreement argues that both deserve the distinction because "they have saved thousands of people from imminent death and have contributed to raising awareness of the constant tragedy which takes place in the same sea that laps our coast."
The award will be given around September 10, and both will follow a list of prestigious parliament Gold Medal bearers including Desmond Tutu, Adolfo Pérez Esquivel, and the Catalan law enforcement bodies – for their role in defending Catalonia during the 2017 terror attacks.
Camps, threatened of a 900k fine
Oscar Camps is the head of ProActiva Open Arms migrant rescuing NGO, and faced a months-long veto from the Spanish government to leave Barcelona's dock earlier this year.
After three months, Open Arms was given permission to leave, on condition that it only take part in aid missions, not migrant rescuing.
Yet two weeks ago, the organization saved a boat with 40 people on board, and subsequently faced Spain's threats of a €900,000 fine.
Rackete, arrested in Italy
Carola Rackete, the captain of Sea Watch vessel, saved a migrant boat in the Mediterranean and docked in Lampedusa, Italy, despite not being given permission to do so, after spending 16 days waiting in the sea.
She was arrested by the Italian authorities afterwards, put in house arrest for several days, and released afterwards, although she still faces possible charges of helping illegal immigration.