No terrorism, no public disorder: Catalan activist cleared of all charges
Tamara Carrasco was initially charged with terrorism and spent over a year confined to her home town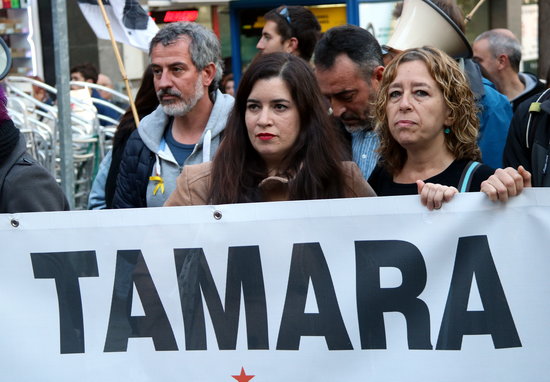 Pro-independence activist Tamara Carrasco has had all charges against her dropped. She has been cleared of public disorder charges after initial charges of terrorism were let go when the CDR protest group she is a part of was officially deemed not a terrorist organization.
Carrasco was confined for over a year to her hometown of Viladecans in the outskirts of Barcelona while waiting for her case to move forward.
In May 2019, a judge ruled the confinement "disproportionate" and allowed her to leave the municipal boundaries.
After years of a judicial back and forth between jurisdictions, Carrasco finally faced trial at a local court in Barcelona in September, accused of inciting public disorder in the wake of the 2017 independence push, and faced a suspended 7-month prison sentence as requested by the public prosecutor.
When she was first detained, police used a voice message sent to a Whatsapp group to accuse her of instructing a local branch of the Committees in Defense of the Republic (CDR), a decentralized network of protest groups created in the run-up to the 2017 referendum which has been responsible for actions including blocking off roads and toll booths.
However, she has now been absolved of all allegations after the judge ruled that her Whatsapp message was sent to a group of friends, and didn't classify as exercising coordination functions of the CDR activist group.
'A jail without bars'
"As I remember it, it was surreal: I woke up, opened the door, and saw 12 armed people accusing me of terrorism," she recalled in an interview with Catalan News.
While awaiting trial, Carrasco was ordered to remain confined to her hometown, a rare precautionary measure which is more often applied to perpetrators of gender-based violence. "It's like a jail without bars," said Carrasco.
More than a year later, in May 2019, a local court lifted Carrasco's confinement.