Nissan protests continue as government says plants cannot be nationalized
Workers demonstrate at four of the brand's main dealerships in Catalonia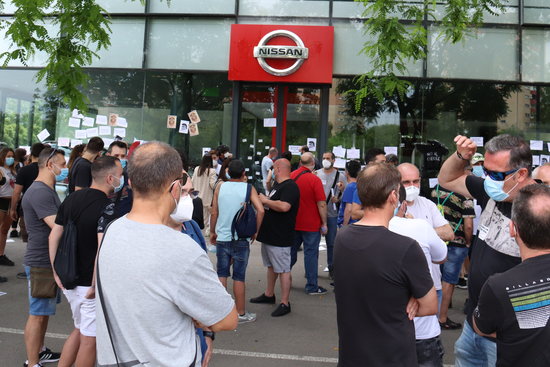 The Catalan government cannot nationalize Nissan's plants "even in the best case scenario," according to business minister Àngels Chacón.
The prospect of bringing the factories into public ownership has been suggested by some unions and political groups, such as the far left pro-independence CUP party.
Chacón, speaking to Catalunya Ràdio on Tuesday morning, insisted it was a "budget issue," and said she did not want to "deceive the workers who are now left in a precarious position."
Chacón explained that next week the Catalan government will meet with the Spanish executive to agree on a course of action following the announcement from the Japanese company to close the Catalan plants.
The minister reiterated that the government will not make the company's move "easy" and will fight "to the end" to make Nissan reverse their decision.
Chacón admitted that she felt cheated by Nissan's management and gave details of some of the aid received by the company. In the last 20 years, she said, it has indirectly received 14 million euros, for example in the form of an interest bonus if they applied for loans, but also 18 million euros direct, linked to specific projects.
Second day of protests
Nissan factory workers meanwhile are engaging in a second day of protests, following Monday's demonstrations at the company's factory in Barcelona's Zona Franca.
Employees were called to assemble at four of the brand's biggest car dealerships, at La Maquinista shopping center and Gran Via in Barcelona, and at Molins de Rei and Granollers.
Around 200 to 250 staff gathered at La Maquinista and glued posters to the windows of the Nissan showroom and a neighbouring Renault dealership.
The two companies' partnership as part of the Renault–Nissan–Mitsubishi Alliance, and in particular the decision for Renault to lead operations in Europe, has been cited by some as one of the reasons behind Nissan's decision to shut down its Catalan operations.
Protesters at La Maquinista also blocked off Ciutat d'Asuncion Street and threw eggs at the Nissan premises.
At Gran Via, protesters cut off one of the main roads into the Catalan capital for the second day in a row.
Contact with other companies to occupy Nissan site
Meanwhile, the Spanish government has admitted that the search to find another company to occupy the site that Nissan is due to vacate is already underway.
Their representative to the Zona Franca Consortium, Pere Navarro, told Catalan public broadcaster TV3 that although he hopes that the Japanese multinational will reverse the decision announced yesterday, "arrangements are being made" as "we cannot stand still."
It is a plot of 517,000 square meters, according to Navarro, who added that the "desirable" outcome would be for it to be occupied by another company in the automotive sector.