Nightclubs reopen as Omicron wanes: 'Tonight is different, the energy is different'
After months of pandemic closures, business owners hope for more favorable 2022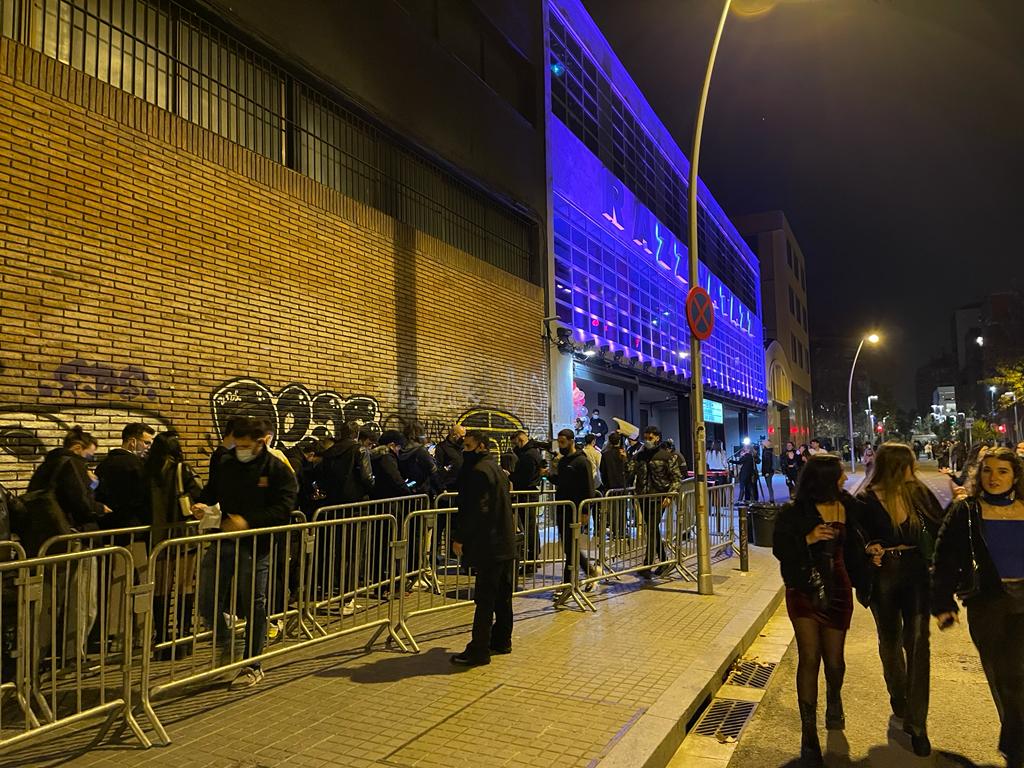 Thursday night – or the early hours of Friday morning, to be precise – was one Catalonia's nightlife sector had long been waiting for.
The reason for this is that, as of February 11, and for the first time since right before Christmas, nightclubs across Catalonia are allowed to welcome revelers back in a move that these hard-hit businesses hope will be here stay throughout 2022. Around 80% of nightclubs in Barcelona are estimated to have reopened on this first night.
And while their clientele will be expected to wear masks indoors – a measure the sector says is hard to enforce – they will not have to provide proof of vaccination or a negative test. These establishments, which have lobbied against the Covid-19 closures that have forced them to shut for 20 of the previous 23 months, will not be subject to capacity or time restrictions either.
Lluís Torrents, the head of Razzmatazz, one of Barcelona's biggest clubs, told the Catalan News Agency that they expected some 2,000 people as opening night tickets had already sold out. "Today's a day to be happy," Torrents, who is also the president of concert hall association ASACC, said, adding that it was essential for young people to be able to socialize and have fun.
Indeed, many people had gathered in the Marina area of the Catalan capital before opening and some could be seen drinking and singing cheerfully in nearby parks and squares.
"Since we got here, the clubs have been closed," Kevin, an exchange student from Arizona who recently moved to Barcelona told Catalan News as he waited. "This is a different night than we're used to, the energy is very different."
Others, like Lukas from Barcelona, had already been to Razzmatazz, but were eager to experience a night out there again. "I've been to Razz two or three times," he said. "But I'm here partying for the first night in some time."
The easing of measures affecting the nightlife sector coincides with the end of the outdoor masks mandate across Spain as well the end of masks for children in school playgrounds, both of which were lifted on Thursday. Masks are still mandatory in indoor places open to the public.
Covid-19 in Catalonia
After an unprecedented surge in cases that began in December, the Omicron-fueled sixth wave finally began to lose steam in recent weeks, with the transmission rate, now 0.62, at the lowest point since the pandemic hit almost two years ago.
And after daily new cases peaked on January 19 with 52,237 reported diagnoses, they averaged at 11,325 per day last week – a 50% drop on the previous 7 day's figures.
As of February 9, 2022, official figures, released daily on this website, state there have been 2,315,312 confirmed Covid-19 cases and a total of 26,130 people with or suspected to have had the virus have died.
6,469,684 residents have been given the first dose of the vaccine, 81.6% of the total population. Out of those, 5,691,892 have also been administered a second dose (71.9% of the total population). 6,197,214 residents are considered to be fully immunized (77.7%).
Catalonia has administered 3,116,290 third doses (39.6%). Official data show that 44.2% of residents have received a booster shot (which includes those who had a third jab plus people who only got one jab in the initial vaccination series and then received a booster, their second shot).