NIEs, TIEs, EU registration certificates… the basics of moving to Catalonia
A quick guide to the main immigration documents for internationals in Spain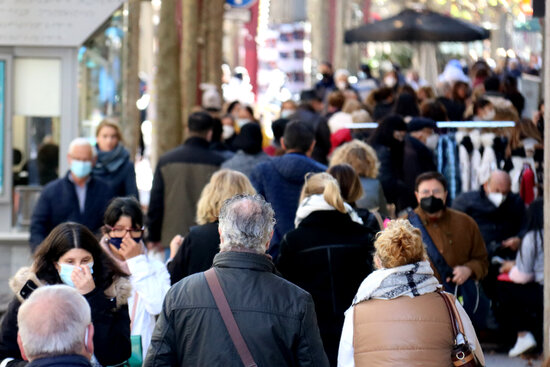 Moving to a new place can be a daunting task, especially when it comes to making sure all of your paperwork is in order.
Here's a quick guide to the main documents you will need once you have obtained a residency permit or visa if you are a non-EU/EEA/Swiss citizen, as well as those you will need if you have moved to Catalonia and you are from an EU country, Iceland, Norway, Liechtenstein or Switzerland:
NIE identification numbers
A NIE ('Número de identidad de extranjero'), or an identification number for foreign nationals, is a personal identification number and tax code for non-Spaniards with economic, professional or social ties to Spain.
Internationals will generally need a NIE to open a bank account, sign a contract, receive benefits, or other administrative purposes. Some companies may also require one in order to provide internet and phone services, utilities, or things such as gym memberships, for example.
A NIE number itself does not expire, but non-EU nationals residing in Catalonia or other parts of Spain have to renew their TIEs alongside their residency permits or visas.
NIEs are issued in person. In Spain, this is done by the Spanish national police or immigration offices, while abroad it can be done at Spanish embassies or consulates.
EU, EEA, and Swiss nationals must go to the police, while citizens from other countries can go to either police or immigration offices.
Appointments for those in Spain, which must be in one's province of residence, can be hard to come by, especially in Barcelona.
TIE ID cards
A TIE ('Tarjeta de identidad de extranjero'), not to be confused with a NIE, is the physical ID card for foreigners that has their NIE number on it.
All non-EU nationals – as well as those who are not from the EEA or Switzerland – who have been authorized to live in Spain for over 6 months or have long-term residence must have a TIE.
This document must be applied for in-person at a police or immigration office within a month of arriving in Spain or being granted residency and has to be renewed at the same time as residency permits and visas.
In addition to a permit or a visa, fingerprint identification is needed in order to obtain a TIE. A Social Security number may be required as well.
As is the case with NIEs, booking an appointment, which must be in one's province of residence, is not always easy. Appointments will be needed both to provide fingerprint identification and to pick up the TIE card.
EU registration certificates
All EU citizens, as well as those from Iceland, Liechtenstein, Norway, and Switzerland, must apply for a 'Certificado de registro de ciudadano de la Unión' if they plan on living in Spain for more than three months.
This document must be applied for in person at an immigration or police office in one's province of residence within three months of their arrival. It may take a while to find an available appointment slot. Some people may also be required to apply for a Social Security number beforehand.
Like a TIE, this certificate is a physical document that will also state the person's NIE number.
Filling the Sink podcast
Residency red tape is all too familiar for foreigners moving to Catalonia, but an increasingly broken system is forcing many to pay over the odds to obtain the requisite documentation. Press play below to listen or subscribe on Apple Podcasts, Google Podcasts, or Spotify.