New request to build wind farm in southern Catalonia keeps residents 'expectant'
Project launched by German firm ABO Wind could see 21 wind turbines of 126/MW altogether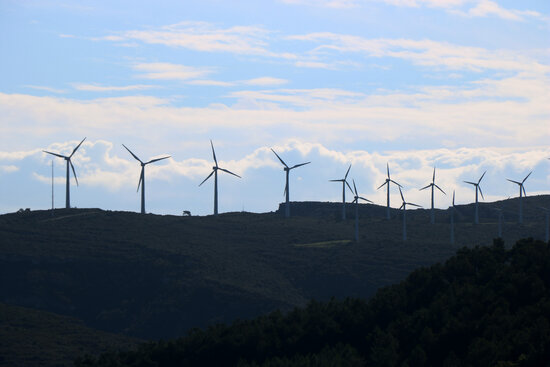 A wind park of 21 turbines located in the towns of Flix, Ascó, Vinebre and la Torre del Espanyol, in the Ebre river region, southern Catalonia, has sparked mixed opinions among locals while they remain "expectant" about the project's viability.
Energia Eòlica Tramontana, a subsidiary of the German company ABO Wind, has submitted an administrative authorization request to the Spanish ecological transition ministry.
The mayors of the towns involved have said that they are working closely with legal advisors to assess the plans, as some consider the €113 million project "acceptable," but one rejects the idea.
So far, the mayors have presented their views to Spain and welcome that the company presented the project in advance, unlike other energy companies that want to install renewable energy plants in the territory, according to them.
Flix mayor, Francesc Barbero, was glad that ABO Wind considered a request to relocate one of the wind turbines, which was "too close" to the town centre. Barbero said that the project "is peripheral and acceptable" for Flix because the town does not have windmills. Yet, they will follow closely the environmental procedures and file a report.
However, the mayor of the nearby Torre de l'Espanyol, Joan Juncà, said the wind park "collides with reality," although he is open to "sit and talk" again with the company. Juncà also mentioned that they will hire specialist lawyers as the project exceeds their staff capacity.
The windmills will be located on both sides of the Ebre river, meaning the facility will have two substations, one on each river bank. The two areas will be connected with a high-voltage overhead power line, of 132 kV crossing the river.
In 2020, Energia Eòlica Tramontana presented two projects to build smaller wind power plants in Flix and Riba-Roja d'Ebre. They were the Tramuntana 1 and 2 parks in southern inland Catalonia, which were dismissed during the preliminary consultation phase by the government renewable energies report, since they affected the spaces and habitat of the Bonelli's eagle, a protected and threatened species of native wildlife.
Podcast on controversial wind farms
Projects like the one recently put forward by ABO Wind have often prompted protests and rejection of local communities.
Back in April, Catalan News produced a podcast episode about the environmental impact of the Parc Tramuntana in Costa Brava, north east of the country, and the local opposition there.