Monkeypox vaccine rollout to begin on Thursday as over 1,000 cases diagnosed in Catalonia
Three vaccination centers in Barcelona will reach out to at-risk groups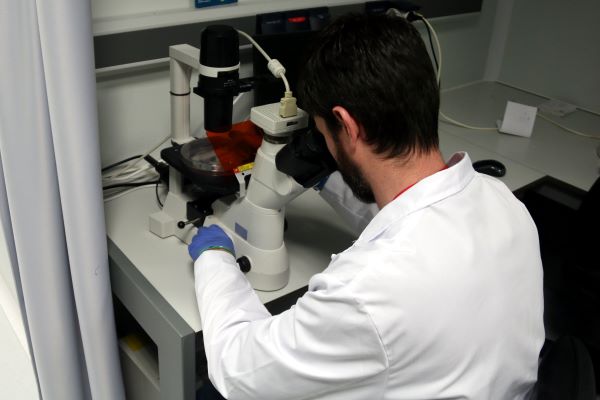 The monkeypox vaccine rollout in Catalonia will begin on Thursday, as was announced on Wednesday by public health secretary Carmen Cabezas on Wednesday.
This comes as 1,025 people have been diagnosed with the virus between May 5 and July 16, while another 1,407 are suspected to have had it over the same period. These figures are evidence, health authorities say, of community spread.
Within Spain, only the Madrid region has more cases than Catalonia. Spain has detected the highest number of monkeypox cases in the world, 3,125, ahead of the United Kingdom (2,142), the United States (2,102), and Germany (2,033).
Vaccination campaign
Jynneos vaccines manufactured by Danish pharmaceutical Bavarian Nordic will be provided both to prevent the disease prior to potential exposure to the virus or within four days following exposure if the person has no symptoms.
Vaccination prior to a potential exposure will only be done by appointment at three sites in Barcelona, the BCN Checkpoint, Hospital Clínic, and the ITS Drassanes – Vall d'Hebron sexually transmitted infections unit.
All three vaccination centers will reach out to people under the age of 45 deemed to be at greater risk of contracting the virus: men who have sex with men, as well as those who are already taking PrEP or who have HIV.
Despite only being home to around a seventh of Spain's population, Catalonia will receive over a third of the vaccines Europe allocated to the country as it has a higher proportion of people who are on PrEP or who have HIV than other territories.
"There are 110,000 vaccines available in Europe," Cabezas said. "12,000 of them are going to Spain, and out of those, 5,300 to Catalonia."
"We would like more vaccines, but this is all we have for now," Cabezas added, and said that Catalonia would pressure Spain into encouraging Europe to purchase more doses.
What is monkeypox?
Monkeypox is a zoonotic Orthpoxvirus related to smallpox, which was eradicated in the 1980s, and has an incubation period of 5 to 21 days.
It is transmitted by being in close contact with someone with the virus, and while not strictly a sexually transmitted infection, most are exposed to it in the context of intimate relations. Most cases clear up in 2 to 4 weeks.
Common symptoms include fever, headaches, or swollen glands, but can be more severe: proctitis – the inflammation of the lining of the rectum – rashes, corneal ulcers, or pneumonia, although some people will remain asymptomatic.
Condom use is advised to prevent sexually transmitted infections but health authorities warn it is not effective protection against the virus as lesions can appear on any part of the body.