Miners in Vilafruns demand better safety standards after fatal accidents
Workers say it's "raining stones" as three accidents occur in the last month and a half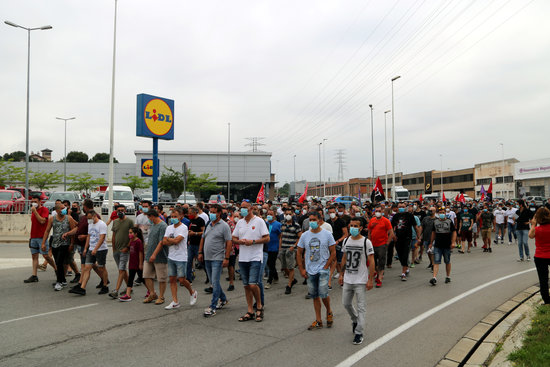 In the last month and a half, there have been three accidents, two of them fatal and the other very serious, at the Sallent mine in Vilafruns, central Catalonia.
The miners are fed up with the dangerous working conditions and around 350 of them protested in Manresa on Tuesday morning demanding better safety standards.
They say their plant has seen cutbacks over the last two years and priority has been given to the Súria mine, where the company Iberpotash has planned its 'Phoenix' growth plan.
"We work in the mine and we know the risk, but we can't assume a stone will fall and bury us," laments Santi Calvo, a subcontracted worker at the mine. He adds that at times in the mine it is "raining stones."
The miners of Súria have distanced themselves from the protest.
At the protest on Tuesday, cries of "No more deaths in the mines," "For those who are no longer there," "Long live the miners" were chanted.
The Sallent miners complain that production at their plant remains at 400,000 tons per year of potash extraction, but they still have to work with machines that have become obsolete.
The demonstration took place in the center of Manresa, where workers received the warmth of the people sitting on the terraces of the bars. The protest ended in front of the town hall, where they were met by the former mayor of Manresa, Marc Aloy, and the mayor of Sallent, Oriol Ribalta.