Metro strike causes crowding, queues, and delays
Asbestos found in trains leads to workers calling for better conditions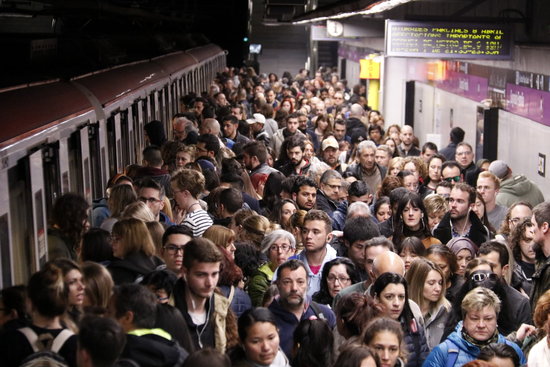 Strikes in Barcelona's metro transport system are causing delays, crowding, and long queues across the city this morning.
Workers are striking to demand better working conditions after asbestos was found in trains and metro stations. Last year, asbestos was detected in 93 different metro carriages.
In January this year, it was reported that 12 maintenance workers in Barcelona's underground transport system suffered from damage done by the asbestos.
Barcelona Metropolitan Transport (TMB) said none of the workers suffered from severe symptoms, and none were undergoing medical treatment.
In February, TMB announced they were buying 42 new trains to replace those contaminated with asbestos at a cost of €555 million.
Strike delays
Large accumulations of people have even forced the city's transport governing body to regulate access to platforms on the L5 line, specifically the Sagrera and Sagrada Familia stations, as well as limited regulation at Verdaguer.
Waiting times at rush hour this morning are around 6-10 minutes, with minimum services operating at around 40%.
Between 9.30 and 10 am, minimum services operated at 20%, something that TMB described as "inadequate," and will cause "problems" because the coaches "will not have the capacity."
After this time, services will return to normal until 4pm this afternoon, lasting until 8pm. During this period train services will be running at 40% regular service. From 10.30pm until 12am, the minimum services of the metro will again run at 20%.
Another strike is currently planned for the same reasons for Monday, April 29.

Health hazard
A member of the metro health committee for the TMB, José Manuel Moreno, gave a press conference on the day of the strike.
"We are striking to protect our own health, while the company continues to ignore the facts," Moreno explained.
"In fact, we've seen that out of 802 MRI scans performed on metro workers, we found that 30% of them had pulmonary problems."