Over 1,000 health workers demonstrate in Barcelona on first day of strikes
Protest organized by Intersindical nurses' union, while doctors try last-minute negotiations with health department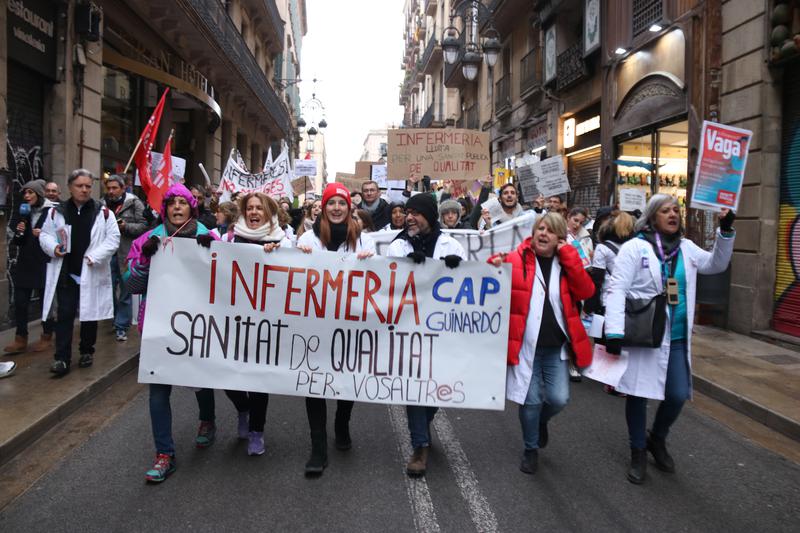 Over 1,000 health workers took to the streets on Tuesday to demonstrate in Barcelona's Plaça Sant Jaume square, on the first day of several strikes, according to Guàrdia Urbana local police.
The intersindical nurses' union called the demonstration to urge authorities for better working conditions and to improve their workloads.
This is the first protest of many organized this week, as other health workers, taxis, and the education sector will also take to the streets on Wednesday.
"If we do not start to make ourselves heard, we will not succeed," Nèstor Sastre, a member of Intersindical, told media outlets.
The demonstration welcomed all members of the health sector as protestors chanted: "we are not doctors, we are nurses," "more lab coats and fewer ties," and simply "it's enough."
Metges de Catalunya, last-minute negotiation
Meanwhile, the Metges de Catalunya doctors' union met with the Catalan health department on Tuesday afternoon to try to reach a last-minute deal before Wednesday and Thursday's strike.
After a meeting that lasted six hours on Monday, representatives announced that some issues were still unsolved such as salary requests and workload.
This union has called on its members to strike on Wednesday and Thursday and make partial work stops from February 1 to 3.
The union has 12,000 affiliated doctors that have long complained of a lack of resources and demanded improvements, especially following the pandemic.
On Tuesday, the Catalan psychologist association also announced their intention to join the strikes this week.
The group claims that their sector is also suffering from overwork, long waiting lists, and lack of resources, all of which are affecting the well-being of patients.