London, Paris, Rome, and Milan denounce High Court's rejection of Low Emission Zone
Politicians from across continent say ruling goes against EU directives and WHO contamination guidelines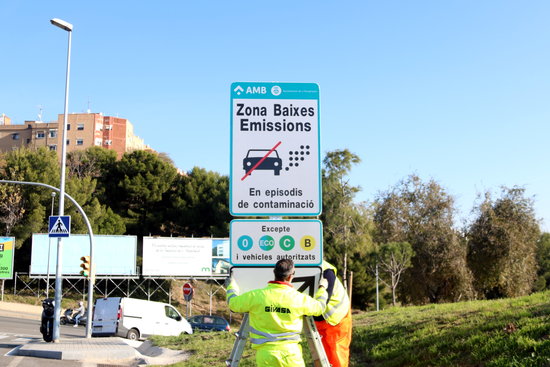 Political representatives from London, Paris, Rome, and Milan have signed an open letter accusing the High Court of Catalonia of "going against" EU directives and WHO guidelines on contamination with its recent ruling rejecting Barcelona's Low Emission Zone regulation.
Last week, the court annulled the Barcelona City Council's Low Emission Zone regulation, which restricts the access of older and more polluting cars into the city.
The court struck out the regulation arguing there are not enough studies on the matter. The High Court also ruled that the Catalan capital ordinance surpassed their city jurisdiction and there are some deficiencies in the types of vehicles excluded from entering Barcelona.
The city council can still appeal the ruling, and for the time being, has decided not to implement the court ruling.
In the opinion of these four cities, the resolution also goes against "scientific consensus and, above all, international common sense" which "understands the importance" of protecting public health. Some 300 European cities, according to the estimates of the letter, have already implemented Low Emission Zone regulation, "because scientific evidence has shown that it is a life-saving measure."
"In the midst of a climate and health emergency, judges cannot force governments to back down," the signatories of the letter warn, adding that public health, clean air, and sustainable mobility must be at the heart of all urban policies in the 21st century.
The four cities estimate that 800,000 people die prematurely in Europe each year due to urban pollution. Against this backdrop, Low Emission Zones are becoming "one of the most useful tools" for reducing pollution levels.
They also point out that the European Air Quality Directive states that the implementation of policies that protect health "is an obligation, not an option". That is why countries that do not follow these guidelines receive "multiple sanctions."
The Deputy Mayor for Ecology, Urbanism, Infrastructure and Mobility of Barcelona city council, Janet Sanz, thanked the four cities for their support and emphasized that through the letter they express their "commitment to continue working with Barcelona" to pave the way for finding responses and solutions to the climate emergency.
"We will continue to defend the Low Emission Zone and this letter confirms that we are also doing so with the help of major international cities," she concluded.
Earlier in March, the Catalan government announced that all towns with populations above 20,000 will become Low Emission Zones by 2025.