Japan's NTT Data opens first European AI center in Barcelona
Invited to inaugurate the new facility, president Quim Torra announces new artificial intelligence "strategy" in July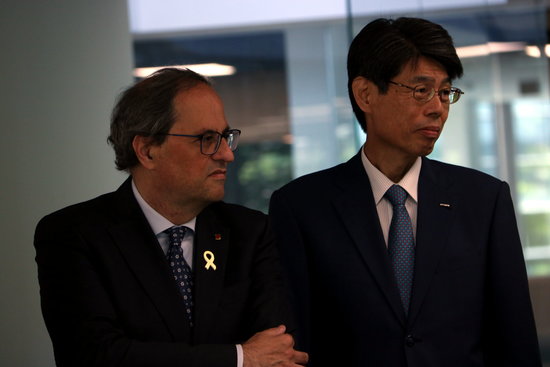 NTT Data, a subsidiary of Japan's largest IT firm, NTT, officially opened its first European artificial intelligence (AI) center in Barcelona on Tuesday.
Part of a three-year plan with an initial investment of 850,000 euros, the center's experts will work with 130 specialist AI technicians based in Japan and the Catalan capital.
Invited to open the center, president Quim Torra said his executive would unveil a "strategy" in July to provide Catalonia with the goals and tools it needs for "this revolution" in AI.
Digital policy minister, Jordi Puigneró, added that the government strategy would focus on four main areas: administration, health, transport, and environment and climate change.
Talks began at Mobile World Congress
The Barcelona center, which is housed in the 'Living Lab' set up by Catalan firm Everis, will have a group of data experts and engineers from Catalonia and elsewhere.
Talks to set up the new center began in February during the 2019 Mobile World Congress, with Puigneró traveling to Japan in March to continue discussing the issue.
NTT Data's global head of technology and innovation, Tsuyoshi Kitani, said on Tuesday that he saw straight away how the AI center "fit perfectly" with the government's digital policies.
Japan's largest corporation providing IT services, NTT Data's revenue amounted to over 13 billion euros in 2016, and the firm employs more than 100,000 people around the world.