'Italy is not Salvini': Catalan NGO docks in Naples to defend sea rescue
Proactiva Open Arms returns to country after standoff with anti-immigration politician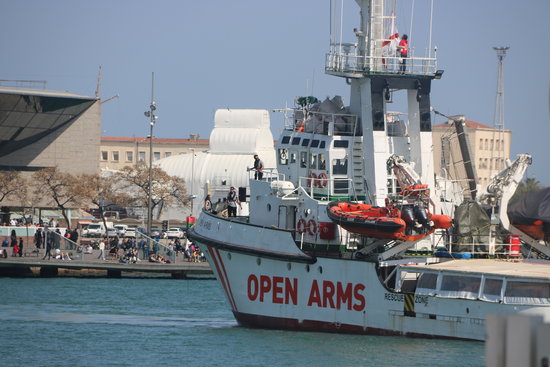 Catalonia's sea rescue NGO, Proactiva Open Arms, has docked one of its ships in Naples, Italy, as part of an awareness-raising campaign to defend the rescue of migrants crossing the Mediterranean amid increased political backlash.
"Open Arms is entering the port of Naples. We're back in Italy to open our ships' doors to citizens. Because not all Italy is Salvini, and saving lives is not a crime," the NGO said in a tweet.
It's been a year since one of Proactiva Open Arms' ships docked in Italy, with interior minister Matteo Salvini since turning the country into one of Europe's anti-immigration standard-bearers.
The Catalan NGO indirectly referred to Salvini as a politician "obsessed with criminalizing human rights defenders in the sea" and thanked the city of Naples for "opening its port to the ship so it can become a space for union, dialogue, and humanity."
In June 2018, Salvini rejected offering a safe harbor to a rescue ship with around 600 people on board, and announced that Italy would no longer accept migrant rescue ships.
While Spanish president Pedro Sánchez and his Socialist government initially adopted a more welcoming approach than Salvini, they also ended up hindering the work of migrant rescue NGOs.
One of Proactiva Open Arms' ships was stranded in the port of Barcelona for more than 100 days pending authorization from Spanish authorities. When it finally set sail, it was only authorized to transport humanitarian aid, but not carrying out migrant rescue operations in the Mediterranean Sea.