'Indians': Catalan merchants with a 200-year history
Architecture, food, traditions, and slavery are all part of their legacy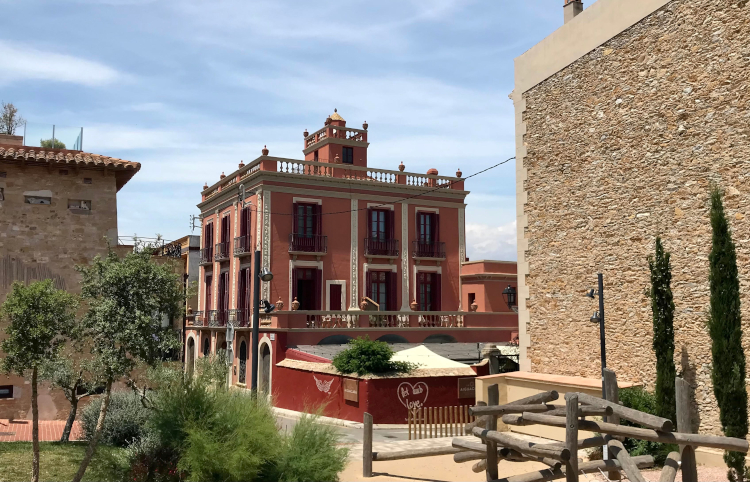 Catalonia has a long history of trade, going from the Ancient Greeks and the Romans to nowadays. While the former used to sail around the Mediterranean, some of the most important merchants traveled to the other side of the Atlantic Ocean in the late 18th century and the 19th century.
'Indians' were people who traveled to the Americas, or West Indies, and returned to Catalonia older, and with a big fortune. They are also known as 'Indianos' in Spanish, or 'Americanos', but there is no English translation of the word.
If you want to learn more about the 'Indians', check out the Filling the Sink podcast episode on 'Indians' and 'Havaneres'.
"This is a curious phenomenon, as 'indià' or 'americano' are concepts that only exist in the languages of the Iberian peninsula," Martín Rodrigo, a contemporary history professor at the Pompeu Fabra University, told Catalan News.
They are called 'Indians' as they used to travel to what they considered the Americas or the West Indies. Despite the fact that 'Indians' are closer in time to our generation than Christopher Colombus's discovery of the new world in 1492, they kept calling themselves those who went to the West Indies, although the continent was named America in 1507.
These Catalan merchants tended to set sail when they were young and poor and go to the Americas, especially to Cuba and Puerto Rico, in search of new job opportunities. They did not only come from Catalonia, but also from other parts of Spain such as Cantabria, Andalusia, or the Basque Country.
"The Catalonia of the late 18th and early 19th centuries would have not been possible without the wealth the Indians brought from overseas. Even, I dare to say, 'modernisme' would not exist without this money," Anna Castellví, coordinator of the Xarxa de Municipis Indians, told Catalan News in the seaside town of Begur, on the Costa Brava.
Begur, full of big houses with grandiose courtyards overlooking the Mediterranean sea is one of Catalonia's most famous 'Indians' towns.
"Begur was a town of 2,000 inhabitants. Of these, 500 young people left for the Americas," Castellví explained.
Modernisme
Modernisme or Catalan modernism is a unique art nouveau architecture style, exemplified by Antoni Gaudí and others.
'Indians' were some of the main patrons behind this movement as they lived in magnificent houses designed by some of the best artists of the time. These were built long before the 'Indians' returned home as they had assistants in Catalonia taking care of their estates and preparing for their arrival.
What are the defining characteristics of an 'Indians' house?
"A porch, to give off colonial airs. A porch that featured paintings of their adventures, always landscapes where you can see the sea," Castellví told Catalan News.
Catalan architect Antoni Gaudí "was really lucky" to find an 'Indià' like Eusebi Güell. His father, Joan Güell, was a major figure in the industrial revolution in Catalonia. His son inherited his fortune and became the main patron of Antoni Gaudí's La Pedrera and Park Güell.
"His patron gave him the freedom to express his artistic desire with the 'trencadís' and these curved forms in 'La Pedrera'," the Xarxa de Municipis Indians coordinator said.
Trade
Back from their journey abroad, if successful, 'Indians' continued investing in farms, factories, and other industries in Catalonia. Barcelona was one of their most popular destinations.
"'Indians' used to mainly return to Barcelona, as they wanted to invest their earnings and do business, and Barcelona was the only Catalan city that allowed them to do so," Pompeu Fabra University contemporary history professor Martín Rodrigo said.
They also traded new products that did not exist in Catalonia before such as coffee, rum, and tobacco, as well as cotton, ceramics, and several other products.
New traditions, when returning, changed the social habits of Catalans with activities such as enjoying a chat after having lunch, the 'sobretaula' while drinking some alcohol. In fact, Bacardi rum was founded in Cuba by Facund Bacardí, a Catalan who was born in the seaside town of Sitges.
"This tradition of coffee, alcoholic drink, and cigars came with the 'Indians' as we did not have coffee, rum, or tobacco here," Anna Castellví pointed out.
Slavery
'Indians' did not only trade with cocoa, sugar, or tobacco, however.
"Between 1821 and 1867 almost 600,000 captive Africans were brought to Cuba. It is quite a significant number, so we can imagine there were around 1,500 boats, each one with its captain and crew," Martín Rodrigo said.
1821 was a key date because that is when Spain abolished the slave trade. However, it had been allowed since 1789, and slave labor was allowed in peninsular Spain, the Balearic and Canary Islands until 1837, in the colony of Puerto Rico until 1873, and in colonial Cuba until 1886.
While the slave trade was not invented by the 'Indians', many clearly benefited from it.
"Some 'Indians' were slaveholders, such as some businessmen from Barcelona and textile manufacturers from Manresa," Castellví said, adding, however, that "not all Indians were slave traders and not all slave traders were Indians."
Antonio López, also known as Marqués de Comillas, was one of the 'Indians' who became enriched by the slave trade. Up until very recently, the square at the end of Barcelona's Via Laietana, near the old port, was known as Antonio López plaza, but has since been renamed after the grandiose post office building.
There were five different parts of the slave trade: first Africans were captured by other Africans and held captive before being brought to sites on the coast where ship captains would buy them captive Africans in Africa. After sailing across the Atlantic, slave traders awaited the ships in Cuba, and then farm or factory owners would buy them as slaves for labor on sugar cane plantations, cotton plantations, or factories.
As slavery was abolished in other countries before Spain, foreign ships would sometimes intercept Spanish boats and free the captives.
Legacy
The impact of 'Indians' is still felt across the country in the form of old houses and festivities celebrating their legacy.
But more recently, social movements have begun to reconsider the history of the most prominent entrepreneurs in Catalonia - especially given their links to slavery.