Independence activists call to block Barcelona airport
The protests have already caused delays and cancellations at El-Prat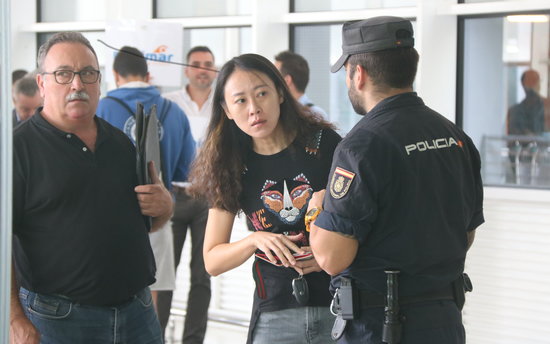 Several protests began across Catalonia only minutes after Spain's Supreme Court released the verdict on the 2017 referendum leaders on Monday morning.
At 1 pm, the Tsunami Democràtic group called on pro-independence activists to blockade the airport of Barcelona to "show Europe and the world the rejection of the sentence."
A matter of minutes later private vehicle access to El-Prat's Terminal 1 was already jammed with cars, which made it difficult for police vans to reach the site.
Within an hour, routes to the airport by public transport including train and underground were suspended – but this did not prevent hundreds of people from reaching the infrastructure. Some people have even started to walk to the airport.
Some of them managed to access its main hall of departures, while others were only able to reach the entrance. Police officers prevented protesters from accessing the main hall – yet the demonstrators remained peaceful, as requested by Tsunami Democràtic through a Telegram Group followed by over 165,000 people.
The protests have led to the first instances of delays and cancellations at El-Prat, and fears grow that these may continue to grow.
Some sources reported to Catalan News that hundreds of people – both campaigners and passengers – were trapped in the airport's underground stations and were not allowed to access the site. The same sources claim that the police charged people to prevent them from leaving the underground.
Meanwhile, demonstrations across the country were also held on Monday, ending up in several streets, roads and highways cut off – the high-speed train between Barcelona and the French border was also interrupted for protesters in the rails.
Early protests
Earlier in the day, several key avenues in Barcelona, such as Gran Via, Diagonal and Via Laietana, were cut off, with spontaneous marches also springing up in the city.
Dozens of public servants, for instance, rallied outside the territory ministry in support of the convicted politicians and activists, especially former territory minister Josep Rull.
At 11am, the blocks affected C-31 highway in the northernmost part of the country, at Verges. Other main roads were also cut off, including C-66 in La Bisbal d'Empordà, C-17 in Vic.