Hundreds rally against Spain's prohibition on refugee rescue boat
Open Arms head blames Madrid of 117 deaths of stranded migrants in Mediterranean on Friday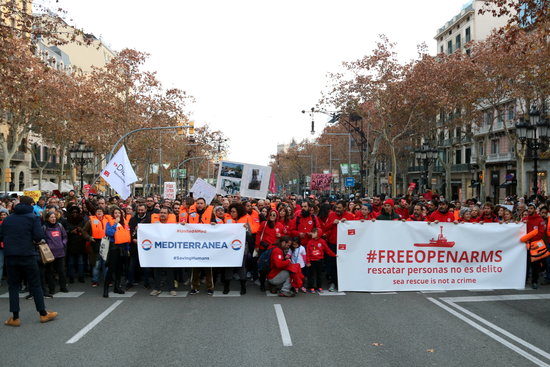 Hundreds of people rallied against Spain's prohibition on NGO Open Arms to sail for the Mediterranean in order to begin a new search and rescue mission in Libyan waters.
The march, on Saturday evening, was called by the volunteers of the NGO in Barcelona, where a rescue boat of Open Arms continues blocked in the port.
The Spanish government has so far only allowed it to sail in Spanish waters, thus preventing it to save migrants in international waters.
For this reason the head of Open Arms, Òscar Camps, blamed Madrid for the death of 117 people in the Mediterranean on Friday due to another sinking.