How has the pandemic affected women more than men?
Laura Martínez of the Catalan Women's Institute on frontline workers, work-life balance and gender-based violence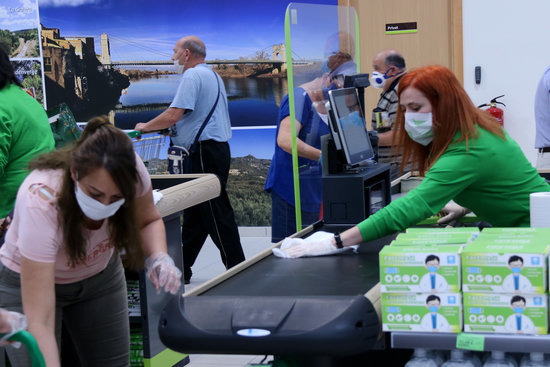 The coronavirus pandemic and the measures brought in to try to control it have not had an equal impact on men and women.
Ahead of International Women's Day, Laura Martínez, president of the Catalan Women's Institute (Institut Català de les Dones) explained to Catalan News that the differences are stark when it comes to essential workers, work-life balance, and gender-based violence.
Frontline workers
Even during the strictest lockdown months essential work had to continue, and in many cases those doing the jobs were women, not least in care homes and in hospitals, the frontlines in the struggle against Covid-19.
"Over 80% of nursing home staff and around 70% of hospital workers are women," Martínez explains, drawing on a comprehensive 52-page report – The Gender Impact of COVID-19 in Data – that her organization has released, which examines the differing experiences of men and women in Catalonia during the pandemic.
It's not only in the care sector where women outnumber men.
"Pretty much all cleaning staff are women and over 60% of people who work at stores that sell essential goods are women. This means they have been more exposed to the virus and at the frontline of the pandemic."
And yet, despite the increased risk, many of these roles are low-paid and precarious. As Martínez says, "their efforts are not sufficiently acknowledged."
Work-life balance
The pandemic has seen huge increases in the number of people working from home, but work-life balance remains as important as ever. With schools and other activities shut for long periods at a time, children required more hours of care, on top of all the usual cooking, cleaning and organizing. Again, women bore the brunt of this increased workload.
"Women have done more household chores than men and have more frequently taken care of both children and the elderly," Martínez says.
In fact, according to the institute's report, the only household chore more men reported doing than women was doing the shopping. This was, however, based on a survey done in April, when going to buy essential goods was one of the only valid reasons to leave home due to the strict lockdown in place.
For Martínez, this just goes to show there was an absence of sharing responsibilities that existed pre-Covid, and continued despite home working.
"One thing the pandemic has shown is that this co-responsibility at home has not existed at all, not even when both members of the couple were confined at home."
Gender-based violence
Lockdown also aggravated many situations of violence against women, due to social isolation and long, continuous periods of being at home with abusive men they co-habit with.
"There was likely more violence during lockdown because of the stress of the situation in addition to not being able to leave home, which made men more violent, plus those who have addictions were not able to obtain the substances they are addicted to," Martínez explains.
With many social and institutional avenues of support cut off, helplines were one of the only ways women suffering abuse could reach out.
"Over the first few months, the number of calls the gender-based violence hotline received doubled," says Martínez.
93% of women who called to report male violence up until October 2020 were suffering at the hands of their husband or partner.
Given all these factors, it should come as no surprise that the institute's report also found that the pandemic has had a negative effect on mental health for more women than men.