How has the pandemic affected healthcare workers on a personal level?
Catalan News speaks to a number of medical professionals for an ongoing series on their experiences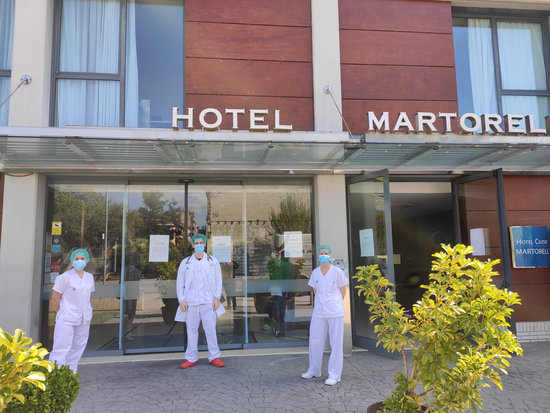 As has been the case worldwide, the Catalan public health system has been under unprecedented amounts of strain over the past few months due to the gravity of the Covid-19 pandemic.
Healthcare workers here and beyond have experienced this firsthand, with many of the professionals we spoke to telling of us how this pressure affected them on a personal level at times.
And in honor of their arduous efforts, here at Catalan News we've decided to publish a series of articles and videos as a small tribute to our health workers, starting with this one discussing crisis' emotional impact on them.
Emotional distress
Olga Fargas, a doctor working as an emergency medical service phone operator in Hospitalet de Llobregat, described her distraught feelings adeptly because even though she wasn't treating patients up close and wasn't at risk of contracting the virus, the pressure still got to her.
"There was a case that, well, went well, but I was really worried. It was my last call of the day, after a 12-hour shift, and it was tough. The next day I was really upset and felt a bit anxious," says Fargas. "Speaking to a psychologist helps me sleep at night. You do what you can, and if it doesn't go well it's not in your hands. If it goes well, then that's great, right?"
Difficult decisions
Not only was the public health crisis aggravated by the fact that healthcare professionals were dealing with a new and unknown disease as well as ever-changing protocols, but it simply caught many medical centers, who perhaps never realized how serious it could be, off-guard.
Andreu Fernández Codina, a senior physician at Barcelona's Vall d'Hebron hospital's emergency department, can attest to how this sometimes forced doctors to make excruciatingly difficult decisions in terms of "deciding who had more chances of making it."
"It is 6 am and there are 4 people of different ages coming in with the same problem, with severe respiratory insufficiency and deciding in 1 minute 'you are going to ICU directly, you will stay with ventilator and you two, sorry, have to wait, just going to see how you do,'" Fernández Codina says of the predicament his team found itself in at times.
The frontline workers we spoke to also frequently described how worried they were of bringing the disease home to their families, a fear that even led some who had the option to do so to stay elsewhere for the duration of the crisis.
Isabel Mur Arizón, an infectious diseases expert and emergency room doctor at Barcelona's Hospital de Sant Pau, however, is one of those who stayed home. Although she remained with her husband and son, however, she told us she followed a very strict showering and clothes-washing protocol upon her arrival every day.
Society's response
The difference between the seriousness of the situation witnessed at work and people's reactions, especially at the very beginning of the pandemic, were often at odds.
This dissonance led Víctor Espiga, a mental health and addictions specialist at Hospital de Mollet with useful anesthesiology training, to write a short story explaining the situation to children.
Espiga believes that what inspired him to put his thoughts in words were the images of traffic jams outside major cities in Spain early on during the pandemic. "Kids were home from school but there were adults not acting as such, but going to their second homes and spreading the virus when they had to stay quarantined."
Teamwork and support from colleagues
Thankfully many medical professionals and health system workers have been able to rely on one another at work for support, as was highlighted frequently in our conversations.
"We've learned a lot from each other - how a traumatologist works or a pediatrician can end up treating adults for Covid-19," claims Marina Guisado, a Catalan doctor who moved to Madrid only months before the pandemic struck and ended up working at the Ifema field hospital. "I think we've learned that we are just humans and we work for people and for their health and we play on the same team."
Indeed, it seems that this sense of community and teamwork among colleagues was essential in getting them - and society at large - through the worst of the public health crisis.