Housing grant applications for low-income 18-35 year olds to open June 8
Almost 10,000 young people will benefit but Catalan government says measure is "insufficient"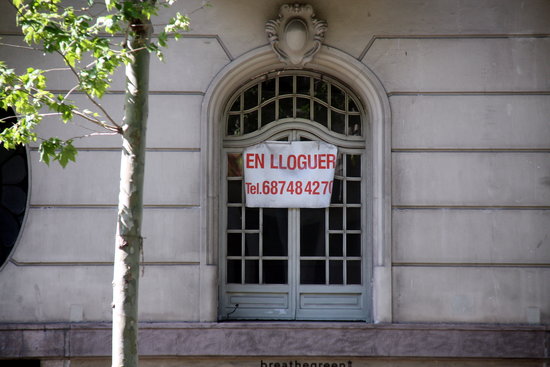 The application process to apply for the new housing grant aimed at low-income young people will be opened by the Catalan government next Wednesday, June 8. Those interested in applying will have ten days to do so.
Almost 10,000 young people in Catalonia between 18 and 35 years old are entitled to receive the benefit, worth a maximum of €250 per month.
These grants will be given in a first-come basis until the assigned budget is reached.
Applicants must be legally resident in Catalonia, have a regular source of income, and be registered (empadronat) at the address you want the rent benefit to apply to.
The Spanish state has provided €29m per year for the program, which is scheduled to last for two years.
In the event that more than one person in the same household applies for the new grant, the sum of all residents' benefits must not exceed the rent.
Similarly, if the person applying already receives other benefits such as targeted basic income, the sum must not exceed the rent.
In addition, the rent to be subsidized cannot be more than €900 per month in the metropolitan area of Barcelona (Baix Llobregat, Barcelonès, Maresme, Vallès occidental, Vallès oriental), €650 in Girona and surrounding counties, and €600 in Lleida and Tarragona.
Catalonia: Aid is "insufficient"
The Catalan housing secretary, Carles Sala, criticized the amount of money that Spain has allocated to Catalonia for the benefit.
As he pointed out in statements to the Catalan News Agency (ACN) on May 30, the €29m that the Spanish government has awarded for the grant does not correspond with the amount of housing in Catalonia or to the number of people that will be able to benefit from it.
"17% of young people [in Spain] are in Catalonia, and 17% [of the total budget of the benefit] is not €29m, but €34m. When we say that the resources that will come to us are insufficient, we can see it with these figures," Sala said.
"Not only to we consider them insufficient, but also clearly unfair," he added.
The Catalan government argues that in order for the benefit to reach more than 70% of young people renting in Catalonia, the maximum amount of rent to be subsidized should have been set at €950 or €975.
To make up for the shortcoming, Catalonia's Department of Social Rights plans to launch a new call for rental aid in the coming weeks.