HIV-positive patient: 'there are a lot of stigmas and it takes time to process it'
New diagnoses falling, with 20% fewer cases in Catalonia in 2021 than previous year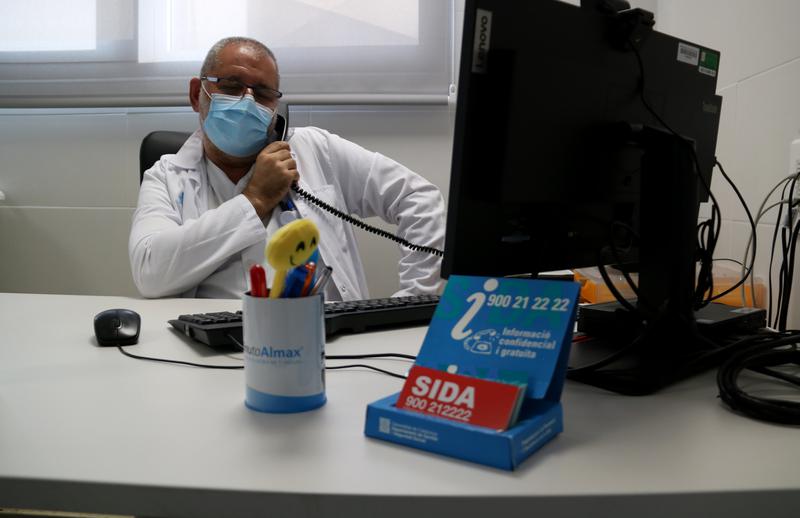 Ivan, not his real name, is one of the 270 HIV-positive patients in the Ebre river region area in southern Catalonia. Five years ago, when he was diagnosed, the news was very difficult to take and he only spoke about it with his partner "for obvious reasons." "There are a lot of stigmas and it takes time to process it," he added.
Being HIV-positive and testing positive for AIDS is still "stigmatized," and Ivan therefore hides it. When he was diagnosed, he remembers preferring to have cancer.
He is one of the patients at the Tortosa Verge de la Cinta health center, where personalized care is offered. Ivan recalls the moment when the nurse explained that "he did not know what he was saying as nowadays HIV is not a synonym for a death sentence."
In this hospital in the Terres de l'Ebre county, there are around 270 HIV-positive patients, and as it is a rural area, it seems like a lot of people, but it is, in fact, one of the Catalan territories where the disease has a fewer impact.
Recently, authorities in this health center have registered a slight increase in new patients after the downtrend because of the Covid-19 pandemic.
"It is not the fact that more people have got infected now, but because fewer people were tested," Amat Ortí, leader of the HTVC's STDs unit, said.
Regarding diagnoses, the United Nations AIDS body set a 90-90-90 goal for 2020, but now it has changed from the "objective that 90% of the HIV-positive people were diagnosed, treated, and detected to add that 90% of them can have an acceptable life similar to the one from the rest of the population," Ortí said.
"I do not have any problem with the disease. If I did not have to take a pill a day, I would not even remember about it," Ivan said. He was tested for HIV after doctors rejected meningitis or a tumor.
At the time, he was very tired, and for him, it "took some time to process, as it is something it takes a while," after spending some sleepless nights and crying, he recognized it was "time to be thankful as I was not going through the worse part."
"There is still a lot of stigma [surrounding HIV]. A lot of the time you realize [this disease] has not been accepted yet," Ivan said.
Less new cases detected in Catalonia
During 2021, Catalonia registered fewer HIV patients than the previous year. Overall, experts registered 344 new diagnoses, 20% fewer than in 2020, according to data released by the Catalan Center for the Epidemiological Study of STDs and AIDS.
Members of the center estimate there are 33,365 HIV-positive patients in the territory, representing 4.4 cases per 100,000 inhabitants.
Back in 2010, the figure was 11 cases per 100,000 inhabitants, according to the Catalan health ministry.
In general, 81% of the cases are men, with an incident rate of 9.3 per 100,000 inhabitants, while for women, it is 1.6. The main transmission is sexual, and 72% of the new diagnoses were from men who have sex with men, and 14% of cases were related to straight men and women.
The average age of HIV-positive patients is 37 years.
95-95-95 goal
The Catalan health department has welcomed the downtrend and believes it is linked to the universality, since 2015, in the use of pre-exposure prophylaxis (PrEP), as well as the several talks the addictions, HIV, STDs, and hepatitis general secretariat does.
In total, over two million free condoms have been handed out at these talks, as well as 686,150 syringes and 15,366 tests among 14 NGOs, 786 in 125 pharmacies, and around 400,000 in health centers.
All of these activities were part of the UNAIDS's 90-90-90 set to reach in 2020. Currently, in Catalonia, 93% of the HIV-positive patients are aware of, 90% of these are in treatment, and 97% have an undetectable viral charge.
This is why the department wants to reach the '95-95-95' goal in 2025.
Groups call to eradicate stigma
Several Catalan officials, including the government, the Barcelona provincial authority, the Barcelona city council, and the First of December committee, in regards to World AIDS Day, which takes place on December 1, have united in calling for the stigma HIV-positive patients suffer to be eradicated.
During the unitary act, politicians reassured that there are still a lot of topics related to HIV that need to be addressed, such as prevention, fast diagnoses, the possibility of having a vaccine, and ending discrimination.
"We cannot lower our guard as we have to continue preventing new cases and betting on a society free of discrimination and prejudices," Laura Vilagrà, presidency minister, said.
Barcelona HIV-patient
Known as the Barcelona patient, a 75-year-old woman who has been able to control HIV for 15 years without antiretrovirals made headlines worldwide this summer when her case was presented at the 24th International AIDS Conference in Montreal, Canada.