Hip Hop artist Valtonyc to enter prison in coming days over lyrics
His lawyer plans to take the case to the European Court of Human Rights in Strasbourg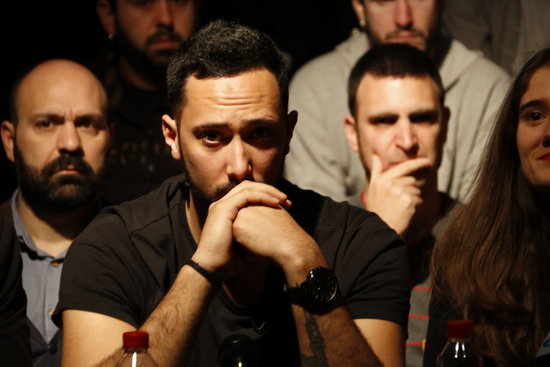 The Mallorcan hip hop artist Valtonyc is due to enter prison within the coming eight days. The rapper, whose real name is José Miguel Arenas Beltrán, was convicted by the Spanish Supreme Court for the alleged crimes of glorification of terrorism, slander, defamation against the crown, and threats in his song lyrics. On Wednesday, Valtonyc's lawyer announced that he intends on taking the case to the European Court of Human Rights.
After, Spain's Constitutional Court rejected an appeal against his imprisonment filed by the rapper stating "its constitutional significance was not justified," its National Court has set the deadline for him to enter jail. He faces three and a half years behind bars for his often politically-weighted lyrics. The 24-year-old announced that he would not enter any prison willingly.
Taking the case to Europe
Valtonyc's lawyer, Juan Manuel Olarieta, explained to the Catalan News Agency (ACN) that he plans to make an appeal against the sentence at the European Court of Human Rights in Strasbourg. The petition has not yet been made, as the Spanish National Court still has to acknowledge that the rapper will request the suspension of the sentence. Olarieta hopes this will be carried out on Wednesday before he can move on with his plans to head to Strasbourg.
Criticizing the Spanish monarchy
One of the songs the artist is most known for is called 'Tuerka Rap,' in which he criticizes the Spanish monarchy, for issues including their relations with the Saudi royal family, their foreign policy, and their use of money. "The situation worries me quite a bit, how to support two families: mine, and the royal one," ironically proclaims Valtonyc in the song.
The lyrics used in the court case against Arenas are from different songs. "We want death for these pigs," for example, referring to corrupt politicians and the Bourbon monarchy, along with "may they be afraid like a (Spanish) Guardia Civil police officer in Euskadi (the Basque Country)," referring to the Basque conflict during the ETA years. You can hear some of Valtonyc's songs here.
Solidarity concert
Those close to Valtonyc denounced the fact that he will be the first rapper in Spain to be jailed solely for his lyrics. On June 17, a solidarity concert will be held with more than forty groups from throughout Spain. The line-up includes Catalan artists such as Albert Pla, who himself has never shied away from criticizing Spain. In 2015, the singer and performer published a novel entitled 'Espanya de Merda', or 'Shitty Spain' in English.
This book has recently caused controversy after an interview with the couple Amaia and Alfred chosen to represent Spain at this year's Eurovision song contest held on Saturday. When asked what she would bring to the contest, Amaia responded that she would take Albert Pla's book, 'Espanya de Merda.'