Gimnàs Social Sant Pau, a community center at the heart of Barcelona's housing crisis
With 1,028 evictions in 2020, the Catalan capital is the city in Spain where they are carried out the most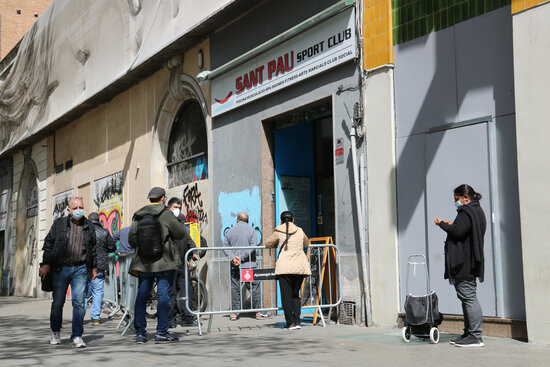 Yohan Nolasco Mendoza is one of the many people who can be found at Barcelona's Gimnàs Social Sant Pau community center every day. A gregarious man in his forties, he speaks candidly of his fondness for the cooperative and its people.
"I'm from Cuba. When I came to Barcelona from Italy after traveling through the French Alps, this is the first place I went to as well as the Santa Anna church," he explains. "I have breakfast and lunch there and then I shower and have dinner here."
The Gimnàs Social Sant Pau cooperative, located in the Catalan capital's gentrification and eviction-ridden Raval neighborhood, is a low-budget gym that for decades has also provided the city's most vulnerable with a place to eat and shower as well as a clean change of clothes.
Multiple eviction threats
A fixture in the community, the gym has been close to closing on multiple occasions since 2016. The family that owns the property, Encesa Viñas, wants to demolish the cooperative in order to build luxury apartments.
"I am worried they will shut it down," Nolasco Mendoza says. "What we now need are more places like this because there are more and more people that are being evicted and homeless because of the pandemic."
Facundo, who works at the gym, agrees. "There are a lot more people who need us now," he says. "We've had a lot of people come to us that have lost their jobs and haven't been able to pay rent."
Since March 2020, the cooperative has provided around 2,500 mainly homeless people with over 55,000 showers and 40,000 meals.
This, however, has not stopped eviction notices from being issued. "Since the pandemic hit, they've tried to evict us three times," Facundo laments. "And each time it has been delayed."
The Barcelona city council offered to buy the premises for €9.7 million in late April—€4.3 million under the asking price. Encesa Viñas turned the offer down, but a judge put a halt to the eviction a day before it was supposed to be carried out.
A possible solution for Gimnàs Social Sant Pau?
Santi, one of the cooperative's most vocal workers, is frustrated with the way the council has handled Gimnàs Social Sant Pau's predicament, especially as it has had support from the opposition to buy the property. "They didn't do anything until the very last minute," he says, describing the uncertainty of the past few years as "nerve-racking."
And yet, the Gimnàs Social Sant Pau community now has reasons to be somewhat more hopeful again. "There was a meeting with the Catalan government on Monday," Santi says. "They have said they will support the gym and cover the difference," he explains, although authorities are yet to announce the dispute has officially been resolved.
But the cooperative's struggle—and quite possible victory—is but one in a sea of housing uncertainty. In 2020, and despite the Catalan government's rent cap law and the Spanish government's state of alarm moratorium on evictions, Barcelona was the city in Spain where they were most frequently carried out: a total of 1,028 times.
Santi, who was over an hour late to his interview with Catalan News because he was busy attempting, unsuccessfully, to stop a family of four from being evicted in the Raval, applauds the latest developments surrounding Gimnàs Social Sant Pau, but believes more is needed to protect those in need.
"Unless truly effective policies are enacted to counter this, it will be bad. There are more and more and more evictions because people haven't been able to pay their rent," he says. "And so today we have, well…" Santi's voice trails off as he gestures at the Mossos police officers behind him who have just carried out yet another eviction.