Gender-based violence reports up 13.4% since last year, highest figure in a decade
Barcelona's Old Town sees highest ratio of cases, followed by northern and southern summer tourist towns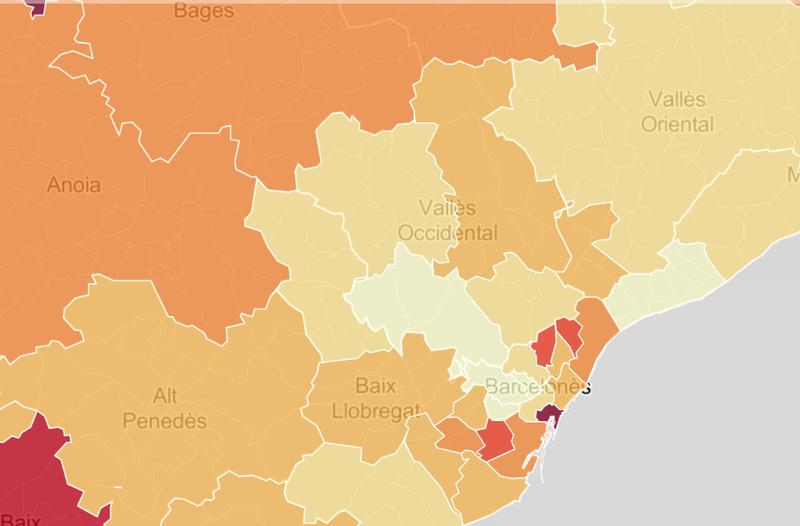 Gender-based violence reports between January and October this year rose compared to the same period in 2021, according to figures from the Catalan police obtained and analyzed by Catalan News.
The Mossos d'Esquadra received 12,953 cases in the ten first months of 2022, 13.4% more than in the same period of 2021 and the highest figure since at least 2013.
Reports had been oscillating between 10,500 and 11,100 cases for the whole decade but spiked in 2022.
Barcelona's Old Town is the area with the highest ratio of gender-based violence reports, with 342 per every 100,000 inhabitants.
The county of Solsonès, in central Catalonia, had the next most with 301. Selva Litoral, comprising the Costa Brava beach towns of Blanes, Lloret de Mar, and Tossa de Mar was third with 264.
The county of Baix Penedès in the south, also comprising of beach towns on the Costa Daurada such as Coma-ruga and Segur de Calafell, was fourth in the list with 249 cases per every 100,000 inhabitants.
Ciutat Vella, Baix Penedès, and Selva Litoral were also the police areas with the highest ratios in 2021.
At the other end of the scale, Barcelona's well-off district of Sarrià–Sant Gervasi registered the lowest ratio, with 52 per every 100,000 inhabitants, followed by the area of Premià de Mar, the Barcelona districts Les Corts and Gràcia, and Rubí area.
The trend also follows that of last year, when Sarrià–Sant Gervasi, les Corts, Gràcia, Premià de Mar and Rubí were bottom of the list again.
Official figures also show that the police get more reports during the summer than the rest of the year.
June, July, and August of 2022 saw around 1,450 cases per month, a slightly higher figure compared to the other months, a trend that was also seen in 2021.
January and February saw the fewest amount of reports in both 2021 and 2022, at between 900 and 1,000.
As for the days of the week, Mondays stood out compared to the others during 2021 and 2022, with 2,052 out of the 12,953 reports this year, and the afternoon – between 3pm and 7pm – is the time of day when victims more often go to police stations for gender-based violence cases.
Protests on International Day for the Elimination of Violence against Women
Friday marks the International Day for the Elimination of Violence against Women and feminist organizations have issued a rallying call for supporters to fill the streets.
Several demonstrations will take place across Catalonia on Friday, November 25, including in Molins de Rei, Terrassa, Begues, and Granollers.
The Barcelona march will begin at the junction of Passeig de Gràcia and Avinguda Diagonal at 7.30pm and travel to Gran Via.