Feminist groups issue rallying cry to end gender-based violence
Call goes out to fill the streets on November 25 for International Day for the Elimination of Violence against Women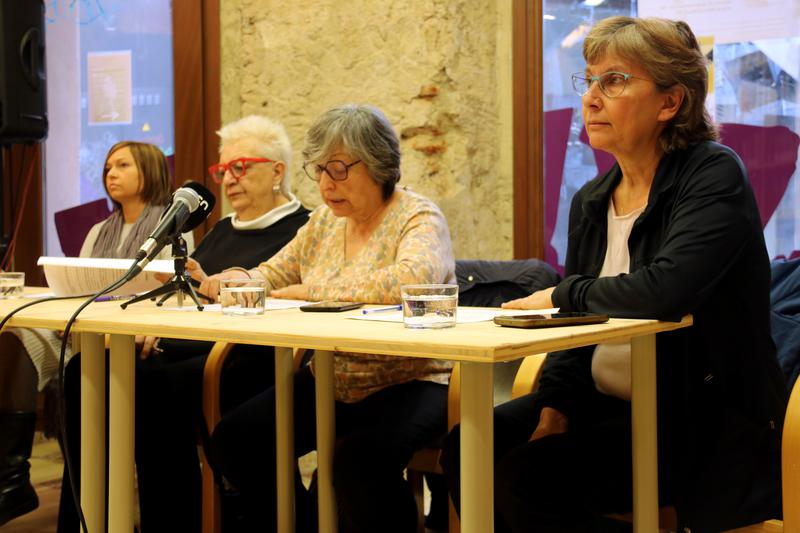 Feminist organizations have issued a rallying call for supporters to fill the streets on November 25, International Day for the Elimination of Violence against Women.
Grouped under the umbrella Feminist November, they have called for "commitment and co-responsibility" from the public – individually and collectively – to help put an end to gender-based violence, one of the major problems affecting society today.
At a press conference on Wednesday, they also called on governments and public institutions to do more, saying that "although certain improvements have been achieved, these are still partial and have not been sufficiently consulted with the various actors of the feminist movement."
Social change
Montse Benito, from the Ca la Dona women's space, outlined the need for a "social" change, since most of the various types of violence have a "structural" nature and are often accompanied by administrative and judicial difficulties.
Dolo Pulido, from the same organization, noted that much of the progress that has been achieved has been thanks to the feminist movement's "mobilizations."
"Our messages must be taken up by many women in the streets," she said.
Several demonstrations will take place across Catalonia on Friday, November 25, including in Molins de Rei, Terrassa, Begues and Granollers.
The Barcelona march will begin at the junction of Passeig de Gràcia and Avinguda Diagonal at 7.30pm and travel to Gran Via.
Popular Feminist Court
The speakers also took the opportunity to highlight one of the projects that was carried out as part of Feminist November: The Popular Feminist Court. Several witnesses testified about violence that causes pain and revictimization of women, including some cases in the labor and social sphere.
One woman recounted her nine-year journey through the courts to seek justice. She was strongly critical of the deficiencies of the judicial system, which she said operates without "rigor or objectivity."
Systemic issue
When asked about the government's action regarding the latest protocols presented by the Department of Equality and Feminism, Pulido celebrated that they are addressing gender-based violence with a desire to change the current way of thinking.
"We value it very positively because it shows that work is being done to stop [gender-based violence] being an individual issue", she explained.
However, she also expressed concern as to whether the allocated resources will be "sufficient" and added that "they would have liked a round of consultations" where feminist groups would have had the opportunity to clearly outline their positions.