Fridays for Future activists put on performance in front of Catalan government
Young protesters accuse inaction as "greenwashing" five years after Paris Climate Accords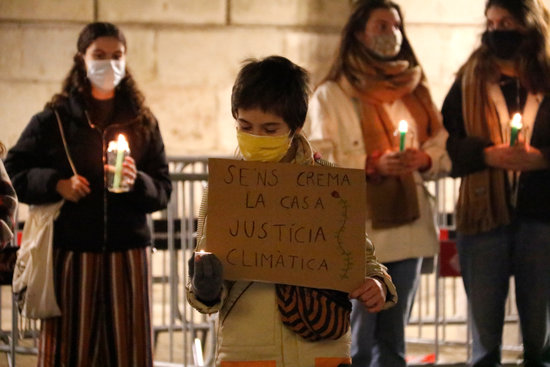 Friday's for Future youth activists put on a performance in front of the Catalan Government headquarters building in Barcelona on Friday evening. This marked five years since the Paris Climate Accords were signed on December 12, 2015.
Activists denounced government inaction on climate, and called the measures such as the Barcelona city council's climate plan as "greenwashing".
The Paris Agreement had 196 countries vow to try and stop temperatures reaching higher than 1.5 degrees above pre-industrial levels.
However, as the Friday's for Future demonstration reminded the public, globally they have already climbed 1.2 degrees.
The display in the square spelled out "Fight for 1.5", referring to this agreed threshold. In regards to this, they also cried out "Not one degree more!"
Mainly, demands rallied around a need for more direct measures in order to stem the global climate crisis.
Protesters reiterated that five years ago a promise was made by these governments that "is far from being fulfilled."
Although they highlighted that the main effects of the global climate emergency were felt in the southern hemisphere, they made clear that Catalonia has not been unaffected by the damage.
In recent years, the Mediterranean sea has warmed at a rate 20% faster than the world average, and a report highlighted that the Ebre delta and Pyrenees region are most at risk from the changing climate in Catalonia.