Former Catalan police chief charged with criminal organization and sedition
Spain's national court accuses Josep Lluís Trapero of belonging to an organization seeking independence of Catalonia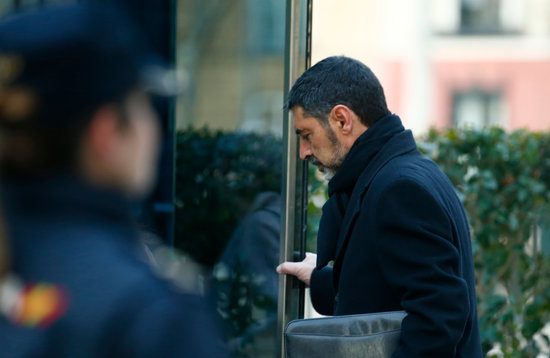 The Spanish national court has charged Josep Lluís Trapero, the former chief of Catalonia's own police force, the Mossos d'Esquadra, with criminal organization and sedition for his role in the independence bid.
The national court judge Carmen Lamela has accused Trapero of belonging to "a complex and heterogeneous organization" whose aim was to achieve "the secession of the Autonomous Community of Catalonia," thus "clearly contravening the constitutional order."
According to Lamela's lawsuit, the Mossos were "illegally" put at the service of the independence roadmap by allowing the holding of last October's "illegal referendum," and spying on Spanish police officers.
Trapero was dismissed by the Spanish government shortly after a declaration of independence was made in parliament on October 27. Madrid subsequently imposed direct rule over Catalonia and deposed all government members.
Lamela is also charging the former director of the Mossos, Pere Soler, and the former secretary general of Catalonia's interior ministry, César Puig, with criminal organization and sedition. Teresa Laplana, a Mossos officer, has been charged with sedition.
September 20 and October 1
Trapero faces two separate crimes of sedition: one for his role in the October 1 referendum, and another one for the massive protests that took place in the run-up to the vote, on September 20 and 21. While Puig and Soler are only being investigated in relation to the October 1 vote, Laplana faces charges for the demonstrations in September.
They are to appear in the national court on April 16, at 10 am, where Lamela will officially inform them of the criminal charges brought against them.