Former Barça president freed without bail after nearly 2 years
Judge takes decision on Sandro Rosell during trial against him for misappropriating money from the sale of football TV rights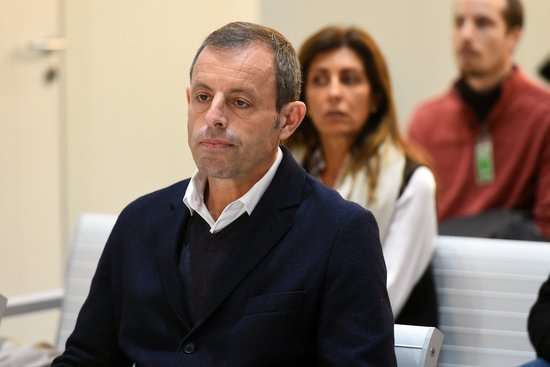 The former FC Barcelona president, Sandro Rosell, was freed without bail on Wednesday morning after 21 months of precautionary incarceration.
Rosell was ordered to enter prison in May 2017, and since then he appealed for conditional bail on 10 occasions, all of which were turned down by the court, which considered him a flight risk.
Yet the judges in Spain's National Court, where the trial against him started on Monday, decided on Wednesday to lift the measure after nearly two years (643 days).
His business partner, Joan Besolí, also in precautionary detention, was also freed.
Rosell, accused of fraud offenses
Rosell, who headed the Barça football club between 2010 and 2014, is charged with five others, including his wife, of fraud offenses, and faces 11 years in prison and a fine of 59 million euros.
He was jailed without bail in May 2017 over accusations of money laundering and belonging to a criminal organization in relation to television rights for football matches.
Specifically, Rosell is accused of misappropriating money from the sale of TV rights for friendly matches involving Brazil's national team. Rosell denies all the charges.
According to the prosecution, he helped launder some 20 million euros that came from commissions for more than 20 matches played by the Brazil national team in a deal with Ricardo Teixeira, the former head of the Brazilian Football Confederation.