Five FC Barcelona fans detained after alleged attack on Eintracht Frankfurt supporters in April
Judge issues for first time restraining order to approach less than 1 kilometer from FCB installations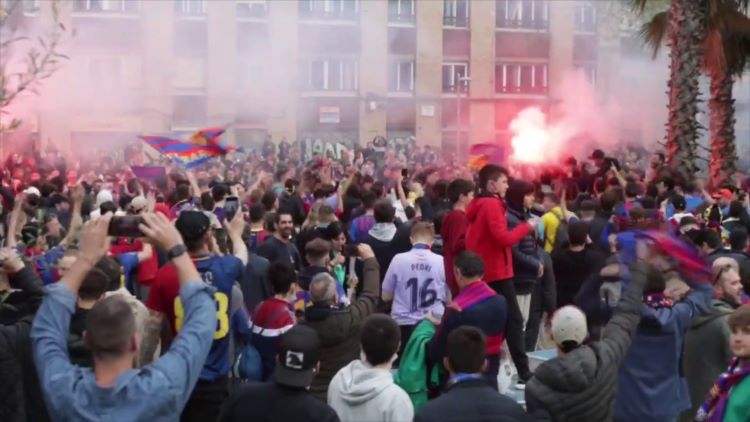 Catalan Mossos d'Esquadra police have detained five Futbol Club Barcelona (FCB) fans for being, allegedly, linked to riots that took place before the team's Europa League game on April 14, 2022. Barça supporters rampaged around Camp Nou's installation and confronted Eintracht Frankfurt fans that had traveled to the city.
Detainees are part of a group of ultras from the Catalan team and four of them have been banned to approach less than one kilometer from FCB installations, the first restraining order of this kind, the police announced.
For the fifth detainee, the judge issued a restraining order from a victim. On that afternoon, several German supporters were attacked with forbidden weapons, as the police shared in a press release. One of the victims suffered serious injuries.
Riots were not only intended against Eintracht Frankfurt supporters but also towards law enforcement officers.
After getting in touch with one of the German victims, the Catalan police focused on the far-right extreme violent ultras group, ending up with five people detained.
Ages range from 18 to 46 years old and detentions were done between June 16 to July 4. Police, however, do not rule out any further imprisonments.
Complicated FCB game
The UEFA Europa League second quarter-finals match between FC Barcelona and Eintracht Frankfurt was scheduled for 9 pm on Thursday, April 14, 2022. However, the city had already long been thinking about the game.
Thousands of Germans had traveled to the Catalan capital to watch a match that could decide the future of both teams, as the first game ended with a 1-1 tie.
The problem was when dozens of these Frankfurt's team supporters arrived as some started drinking and creating chaos around the city. Police had to control them, as if Germans were a herd, around the streets leading them up to Camp Nou.
With several main roads cut to vehicles, Barcelona residents started their Easter holidays with traffic jams.
Once at the Camp Nou, riots started as some did not have an entry ticket and the few that had them, ended up being seated across the stands. With some FCB supporters being the only ones seated next to dozens of Eintracht fans.
FCB lost the game 2-3, and the German team moved up to the next phase of the 2021-22 Europa League.