Finding local products to level up Catalonia's haute cuisine
Gastronomic Forum Barcelona brings together unique chefs and quality ingredients from around world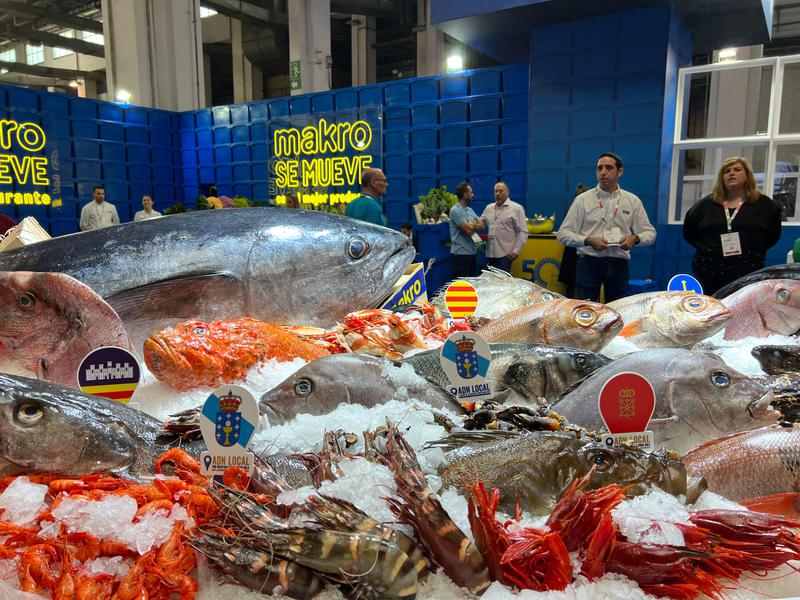 Innovation, science, and sustainability are some of the key ingredients at the Gastronomic Forum Barcelona fair this year, but they're not all you'll find. Local products also take center stage, used by haute cuisine chefs from Catalonia and around the world.
Serra de Daró is a tiny village with only 200 inhabitants inland of the northern Baix Empordà county, famous for its Costa Brava beaches. In spite of its small size, one of its companies resists new trends and instead contributes to modern food while maintaining traditions.
Ànec de l'Empordà was created in 1986 and years later it continues to breed ducks the same way it did when it started out, using products from the area.
"Ducks in the Baix Empordà county are very important as we have the perfect climate for this animal," David Bach, the company director, said to Catalan News during an interview at the fair.
Bach's company is one of the many showcasing its goods at the Gastronomic Forum Barcelona. The event sees over 270 exhibitors from Monday to Wednesday at one of the city's Fira Montjuïc exhibition halls.
The vast majority of visitors are from local businesses, restaurants, and hotels, but others have arrived from other countries to be here. Attendees come to taste local products, some of which are even unique to the areas where they are harvested or bred.
This is the case in the northern area of Lluçanès, a place with few inhabitants encouraging several producers to make a joint effort to come to the city together and promote their region as a whole.
"Lluçanès has several villages with very few inhabitants, it is a very quiet zone, the air quality is very good, we have several oak trees," Judith Saus, from Niu Verd poultry, said. "After all, the characteristics of our territory are what we mainly sell," she added.
Uniqueness
The uniqueness local Catalan products can bring to the table is what haute cuisine chefs look for when searching for the best ingredients, something that the seaside town of Palamós is well aware of.
"Palamós's prawns have been a gourmet product for some years now. It is one of the products in the country that has a guarantee certification," Silvia Romero, one of the public workers at Palamós city council, told this media outlet.
"At Palamós, we ensure that consumers can trace this product back to when it was fished, something that has been very important to international markets," she said.
Higher prices
One of the main concerns among buyers is the higher price these products tend to have. However, some enterprises do not see this as a negative effect, but rather as a way of improving their final product.
"Us businesses have to support each other, and in Catalonia, we have exceptional and amazing products that we need to strengthen," Imma Pardos, the director of the COC & Delicatessen company, told Catalan News.
Her company is specialized in preparing food using products from local farmers and producers. But it is not as easy as it seems, because after all, "the good Spanish ham comes from Extremadura region, so we have to buy it there," she explained.
The same happens for Gerard Pujol, he is in charge of Lleida's pears certification of origin. Competing against other cheaper pears from abroad is a constant challenge for them.
However, they are seeing that "Lleida pears are a product that, year after year, is gaining more interest in haute cuisine kitchens," as Pujol explained, before adding that they have "been doing great when promoting this product and chefs are using it more and more in their dishes."
KM0 cuisine
Local, family-owned, and sustainable are some of the ways to describe what chefs are looking for, especially at Gastronomic Forum Barcelona.
All of these push KM0 cuisine to new horizons, offering new sensations and experiences to consumers, served to them in a dish of products that have all been sourced locally.
"We can export Palamós prawns overseas, but it is not our only focus, we sell very few prawns abroad as the philosophy in Palamós is that the best place to eat Palamós prawns is in Palamós," Silvia Romero said.
KM0 cuisine is not only about gastronomy, but also part of a larger economic growth campaign in some areas of Catalonia.
"Local products are more expensive, yes, but it is part of the territory, we are local residents, and it is an added value that people should realize they are helping out families and the country, which I believe people should be aware of," Gerard Pujol, from the DOP Pera de Lleida, told this media outlet.
As a way of proving that KM0 cuisine is important for the market and for small farmers, they get to enjoy time explaining their goods by taking part in showcookings at the Gastronomic Forum Barcelona event, highlighting the importance of what tradition can bring to haute cuisine.