Education not only about knowledge, expert says
Children should be taught "life is about always being aware of the challenges"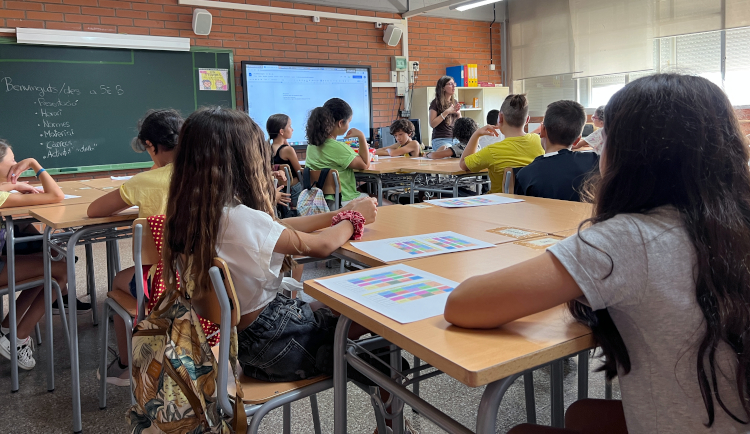 Around 1.5 million students have started school in Catalonia this week - a week earlier than usual. Preschool and primary school children went back to classes on September 5, while secondary, pre-university grades, and vocational training programs began on September 7.
All of them got to enjoy the shortest summer break ever thanks to a government measure aimed at improving households' work-life balances. But education expert Martí Teixidó, from the Catalan educators association, believes that "we are not setting school timetables thinking about families."
"We started the academic year earlier but we have not solved the big issue," Teixidó said in an interview with Catalan News
"If we had breaks throughout the school year, such as in France, there would still be as many school days but they'd just be more spread out," he added.
In fact, he suggests that not all students "should be on the same academic calendar."
"It would be good for some to start earlier than others and for there to be a personalized education system in which no one would would be left behind," Teixidó recommended. With this format, classes in July would be more flexible than they are now, and while some students would not go to school in September, they would still be in the classroom in July.
Covid and children
The 2022/23 academic year has been the first in three years to start without any Covid-19 restrictions in place.
Students in Catalonia have had to contend with various measures since March 2020, from online learning and strict social distancing to having to constantly wear face masks to having to only wear them in certain settings.
"Going back to school [after lockdown] was really difficult at first," Teixidó said. "It took us a long time to sort out, but it's behind us now and we did a good job handling it."
"It was complicated but now I think we have to move forward. We lived through it and overcame it and we should teach children that life is about always being aware of the challenges we may have," the educator claimed.
As an education specialist, despite grades going down, he does "not worry at all" because there is "a clear explanation for this, as there was an external cause that did not depend on schools or on children," he said.
"Test results are only one thing we should consider from an educational point of view," Martí Teixidó concluded.
Language learning in Catalonia
Learning a new language is not something that a lot of students can achieve easily. In fact, Spain has similar English levels to the ones of countries such as Italy, Belarus, or Albania.
Within Spain, however, Catalonia is above average, as studies show there is a strong correlation between average income and educational attainment and wealthier parents are able to afford private lessons.
In any case, Teixidó believes there should be a new approach to teaching languages.
"Singing a lot of songs [is a good way to learn] when you are three, four, or five years old. There should be a lot of songs in Catalan," he said, arguing that learning how to pronounce words correctly in another language helps expand our phonological awareness, making it easier to learn how to pronounce others as well.
"Spanish is also [a big part of our society] and they should have books in Spanish too, but we should prioritize Catalan," Teixidó added, arguing that it is important to make up for those who are not exposed to the language at home. "We should ensure that there is enough time in the language for everyone. We will also be singing in English, French, and Italian," he added.
One of the problems in Catalonia is that we "teach English to everyone the same way and it turns out it's harder for some kids than others," he argued. "Some parents pay for private tutors over the summer or take their kids to a country where they can practice the language [while others can't], but their children are in the same classroom."
School curriculum changes
One of the new changes in this academic year is also a new school curriculum in place for some grades, which will be implemented at all levels next year.
Officials "want schools to focus on knowledge competency and have said that if some were doing it and others weren't that they all should. But it shouldn't be taken as a requirement but as a recommendation," the educator explained.
The new curriculum focuses on a knowledge competency system over memorization, but Teixidó says it should not be incompatible with some memorizing, especially as, he argued, memorization has not been central to schooling in Catalonia for decades now.
Even when not trying to learn something by heart, if you "repeat something quite frequently, you end up memorizing it without realizing it," Teixidó said, using songs, poems, or times tables as examples.
"Education is not only about knowing or asking questions about what is this or that but being able to solve an issue," he concluded.