Distribution of 500,000 Covid-19 rapid tests to begin on Friday
Public health secretary unsure whether new measures will only last two weeks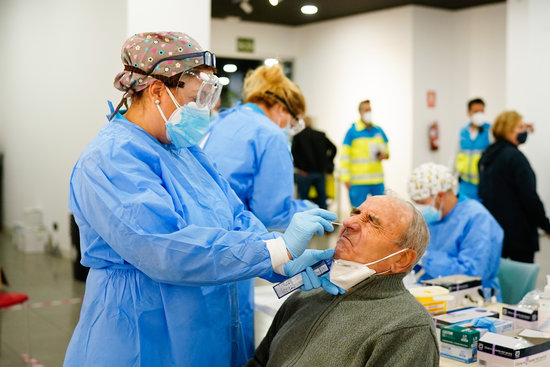 Around half a million rapid tests, or antigen tests, will be distributed to Catalan medical centers beginning on Friday.
As explained on Thursday by the health secretary, Josep Maria Argimon, the tests will be used in primary care units and emergency services in hospitals.
The Catalan government has bought one million of the tests, with half of them already in warehouses ready to be distributed and the other half on their way.
The result of these tests is usually known in 15 minutes, and they are especially effective in people with a condition compatible with Covid-19 and during the first five days of symptoms.
Although the standard method of diagnosing will still be PCR tests, they will be "replaced" in a number of cases – yet only in medical centers so far, although this could be extended in the future.
These tests are performed with samples of nasopharyngeal secretions, but authorities are assessing whether a nasal smear test would be enough.
Argimon also explained that his department is working on a strategy to allow care home workers to perform checks on their own.
New measures
Concerning the new measures passed on Wednesday and due to be in force from Friday if judicial authorities give their go-ahead, which include the closure of bars and restaurants, Argimon admitted he does "not know" whether they will only last two weeks or will have to be expanded.
"We have not gone too far [with the measures], this is about flattening the curve," he argued.
For him, Catalonia is not one of the areas in Europe with harshest measures, because other countries have applied "similar" ones.