Demands for new social and economic model in trade union protests
Union heads vow not to pay for impending financial crisis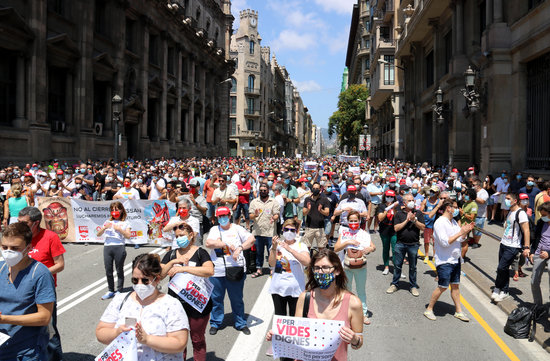 Some of the country's biggest trade unions have gathered on Saturday on Via Laietana in the center of Barcelona to demand a pact for a new social and economic model "where people are at the center of decisions."
Across Catalonia this Saturday, simultaneous rallies took place in Cornellà, Girona, Granollers, Igualada, Lleida, Mataró, Tarragona, Terrassa, Tortosa, Vic and Vilafranca del Penedès under the same banner.
The 5,000-strong rally was organised by the trade unions UGT, CCOO, and USOC, together with various social entities, with the backdrop of the economic and social crisis arising from the coronavirus pandemic.
Under the motto 'An agreement to rescue pardons, work and wages,' the unions demand a repeal of labor reform and call for decent jobs and wages. "We will not pay for the economic crisis," warned the Secretary General of UGT of Catalonia, Camil Ros, during the speeches.
The rally was divided into four groups along different points of Via Laietana, one of the busiest roads in the center of Barcelona's old town. The first group, made up of workers in the industrial and agri-food sector, called for a future for Nissan's plants in Catalonia.
The other, smaller, groups were made up of employees from the health and dependency sector, the cleaning sector, and the trade and hospitality sector.
The rallies are part of a wider call that will take place across Spain this weekend.