Day 5 of unrest: 54 arrested and 19 in hospital in worst night of riots
One person in very serious condition, as protesters play cat and mouse game with police, whose operation is also in the spotlight, especially among journalists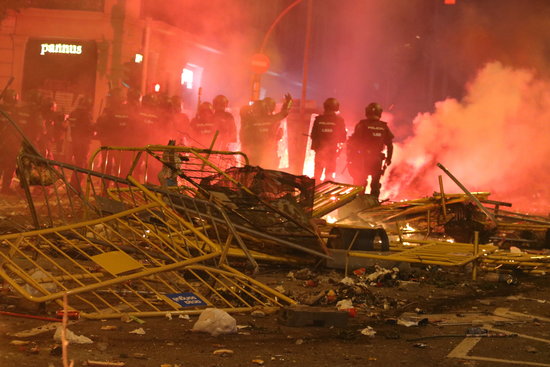 The fifth night of unrest in Catalonia due to the guilty verdict on the independence leaders was the worst of them in terms of tension and clashes between protesters and the police, especially in Barcelona.
The general strike and peaceful protests of Friday in the daytime, including a 525,000-strong rally in the capital's Passeig de Gràcia, gave way to another demonstration in the evening in Barcelona.
The march, starting in Via Laietana street, outside the Spanish police barracks, led to clashes between the demonstrators and the officers of the Catalan and Spanish law enforcement, in places including the iconic Plaça Catalunya and La Rambla.
For several hours until the early hours of Saturday, the police used rubber bullets, batons and teargas to dissuade protesters, as they were building barricades with all sorts of street furniture, including trash cans.
Game of cat and mouse
Demonstrators also pulled out pieces of paving using shovels, hammers and chisels to throw stones to the officers.
It was a game of cat and mouse for hours, with the police trying to dissuade protesters using tactics also including high-speed riot vans, and protesters building up barricades on fire again minutes later.
The Catalan police used water truck for the first time since riots started this week, but only to plow through the barricades, and not to try to dissuade people, according to the law enforcement.
In other cities including Lleida, Tarragona and Girona heated riots with similar images as the ones seen in Barcelona were held.
Some Catalan News Agency reporters saw Spanish police officers shooting rubber bullets at journalists perfectly identified with vests and armbands in Barcelona.
Photojournalist Albert Garcia was arrested in Barcelona's Urquinaona square by Spain's police while taking pictures of detention carried out by Spanish police officers. Witnesses question police accusations that he hit an agent. He was released after a night held in custody.
54 arrested and 182 medically treated in worst night of riots
In all, the Catalan police arrested 54 people during the night, with 18 in Lleida, 12 in Girona, 12 in Barcelona and 9 in Tarragona – 18 officers were injured.
The Catalan medical emergencies service treated 182 people across the country.
On Saturday early afternoon, 19 people were in hospital, with one person in very serious condition in Vall d'Hebron center. Two people lost an eye, with another one pending an operation to save the sight.