'Culture closed while Sagrada Família mass held with 588 people': controversy rages on
Government considers restricting religious events to 100 people but says current state of alarm does not allow ban on places of worship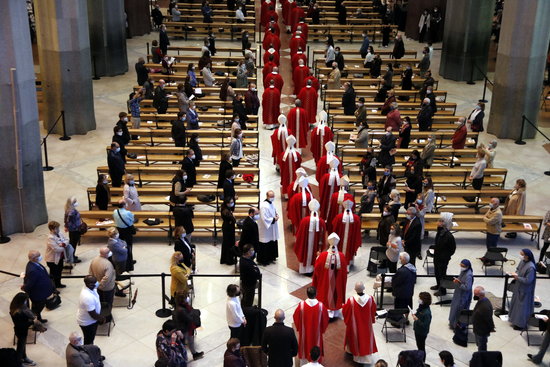 "Does the virus enter theaters but not churches?" This is what the leader of left-wing party Catalunya en Comú – Podem, Jéssica Albiach, wondered on Saturday.
It is just one of the many angry comments made in the wake of a mass that took place in Barcelona's iconic Sagrada Família basilica on Saturday.
A total of 588 people gathered at an event that marked the tenth anniversary of the then Pope Benedict XVI's visit to the unfinished Gaudí masterpiece – less than 30% of its total capacity, the maximum allowed under the latest measures.
Barcelona's archbishop claims that they followed all the Covid-19 rules. "I ask for forgiveness if I have done anything wrong, but we have tried to follow all regulations," archbishop Joan Josep Omella said on Monday.
Yet, the crux of the controversy has not really been the level of compliance, but the fact that the restrictions have forced all cultural venues to close while allowing places of worship to remain open.
"Culture is closed while the Sagrada Família is holding a mass with 588 people," said Albiach.
Even the Catalan government condemned Saturday's mass: "This celebration should not have taken place," both the health minister, Alba Vergés, and the health secretary general, Marc Ramentol said on Monday.
"I got angry," said the interim Catalan president Pere Aragonès on Sunday. He added that the 30% capacity works for ordinary churches, but for vast religious buildings it has to be reviewed.
Indeed, the justice ministry has proposed to Procicat, the crisis committee monitoring all of the Covid-19 measures, that religious events be restricted to 100 people.
Meanwhile, the Catalan Socialists stated that "no crowds" were seen in the Sagrada Família, and blasted the government for complaining about the event while "some of its representatives" attended the mass.
Why places of worship are open
The Catalan cabinet has fought back against the criticism, explaining that the current state of alarm approved by Spain enables the Catalan government to make exceptional measures such as the ones forcing cultural venues to close, but doesn't allow them to shut places of worship.
The reason being that Spain's constitution states that religious activity is a fundamental right, unlike cultural events.